REUK.CO.UK
<15pt>The Renewable Energy Website15pt>
---
This is the printer friendly version of the Pumps for Solar Water Heating article from the Renewable Energy Website REUK.co.uk.

Click here to print

this article.

Printed at 02:09am 7th December 2013




Pumps for Solar Water Heating
Find a suitable water pump for a solar water heating system

A solar water heater (1) is an active rather than a passive device. Therefore it is necessary to pump the heated water around to where it is needed. Therefore the solar water heater is part of a closed loop with fluid driven by a low flow water pump. Ideally these pumps are powered by a PV solar panel so that there is no high voltage electricity involved and no pollution generated. Pictured below is an example of a PV solar powered 12V closed loop pump ideal for solar water heating applications.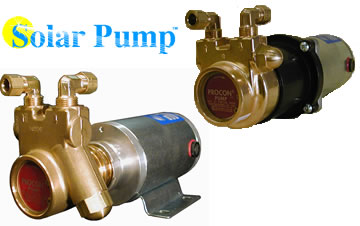 A typical high-voltage powered pump requires a controller and temperature sensors to manage the speed of pumping. The Solar Pump ensures that the flow rate is always at the right value to maximise water heating. In addition it will save a couple of hundred kWh of electricity useage. The more sunlight hits the solar water heating collector, the more hits the PV solar panel and therefore the pump will work hardest when the water is being heated the most - exactly what we require.
Solar pumps are configured to circulate water as long as there is enough sunlight to cast a shadow. Best of all, they will heat your water even if you suffer a power cut or if you live off grid.
The pumps pictured above are from Thermo Dynamics Ltd. (2) and have flow rates from 0.3 to 2.4 Litres/min up to 2.0 to 12.0 litres/min.

Other manufacturers to look out for are March, Hartell, and the El-Sid pumps from Ivan Labs Inc. All provide brushless motors and are maintenance and leak free and perfect for pumping around hot water or glycol solution. El Sid pumps for example start at wattages of just 3.5W and so can be powered directly by a small 5W solar panel.

Find out how to Build Your Own Solar Water Heater (3) here, or click here to find out more about Thermosyphon Water Heating (4).


Web Link References
(1) http://www.reuk.co.uk/
(2) http://www.thermo-dynamics.com
(3) http://www.reuk.co.uk/Simple-Solar-Water-Heating.htm
(4) http://www.reuk.co.uk/Thermosyphon-Solar-Water-Heating.htm


---
Article from REUK.co.uk:
http://www.reuk.co.uk/Pumps-for-Solar-Water-Heating.htm
Published: 20th December 2006
© REUK 2013