Pictured below is a solar pump controller we recently built to meet a specific requirement. A solar water heating panel is used to heat the water in a hot tub, but if the hot tub exceeds a maximum temperature for comfort, then any additional solar hot water is diverted to heat the contents of a cylinder used for domestic hot water.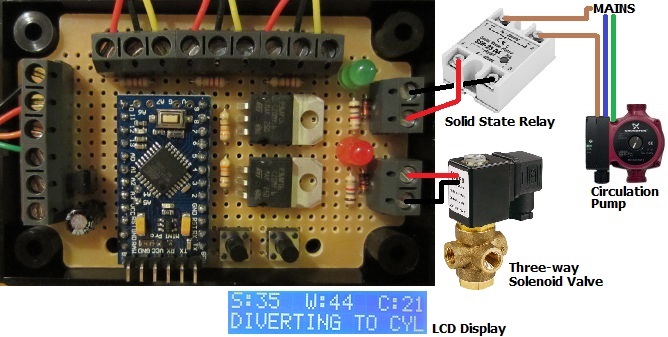 This controller is closely based around our standard 2014 Solar Water Heating Pump Controller with LCD Display, but with the addition of a third sensor to measure the temperature of the cylinder (since we only want to send water from the solar panel to the cylinder if the solar water is hot enough to heat it up).

If/when the temperature measured of the hot tub reaches or exceeds the user's desired maximum for comfort, a three-way solenoid valve is energised automatically diverting the hot water from the solar panel to the cylinder . The pump then carries on pumping until either the hot tub's temperature has fallen by a couple of degrees, or the solar panel cools to close to the cylinder temperature.
All sensors used are waterproof digital temperature sensors, and the display is enables the temperature of all three monitors to be constantly monitored. A solid state relay is used to switch the mains powered circulation pump on and off.
If you need a solar water heating pump controller, please take a look at the selection of units we have in the REUK Shop. If you do not find exactly what you need, please email neil@reuk.co.uk with details of your requirements.