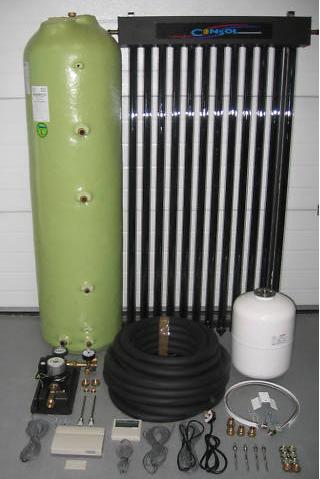 Pictured above is a complete DIY 30 tube evacuated tube solar water heating system for sale here in the UK at £1,662 plus £45 for delivery.
While that obviously sounds like a lot of money (as it is) you get a lot for your money all from one place thereby making savings in postage and the time otherwise taken to spec and source everything.
Evacuated tube solar water heating systems (click link for more information from REUK site) are the most efficient on the market today. A 30 tube system such as this fitted with a 200 litre tank will meet the majority of a typical family household's hot water needs for 3 seasons of the year, and make a good dent in water heating bills the rest of the time – even when it is freezing outside.
The kit comprises the 30 evacuated tubes, 200 litre insulated twin coil cylinder, roof fittings, solar contoller and pumping station, expansion vessel, pipework, and all the other fittings necessary to put together a complete solar water heating system together with detailed instructions.
Click here for more information or to buy now: 30 tube solar water heating kit. There are many other options – e.g. smaller or larger systems available from the same seller. Click here to view the range: DIY evacuated tube solar water heating.