One of the main points to come out of the recent Energy Savings Trust (EST) trials regarding heat pumps was that whilst such pumps are capable of producing relatively high coefficients of performance (COP), results showed that in many cases heat pumps were failing to deliver.
One aspect of installation which is critical to efficiency is the amount of heat extracted from the earth. Get it wrong and the sensitive balance of ground source heat can be dramatically upset, potentially resulting in the ground freezing.
Traditionally, there are two options for heat collection associated with ground source pumps, vertical parallel bores and horizontal ground loops.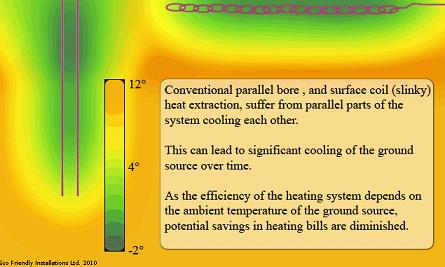 Geothermal Radial Drilling
A relatively new system which allows for sustainable heat extraction from a wider ground source is the Geothermal Radial Drilling system. Radial drilling draws its heat by spacing bores at varying angles ensuring that the highest possible ratio of watts per metre is achieved.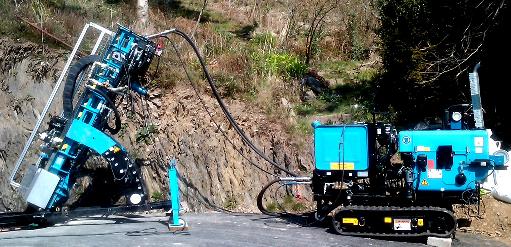 Initially a single main drill chamber is installed which acts as an access point from which the bores can be drilled. These can be placed anywhere within a 360 degree circumference around the chamber. By drilling out at angles from a single main chamber, the long horizontal trenches required by ground loop systems are avoided. In most situations a clean air powered system is then used to remove bore hole waste from the site, a huge advantage where preservation of existing areas such as gardens, patios or driveways is a priority.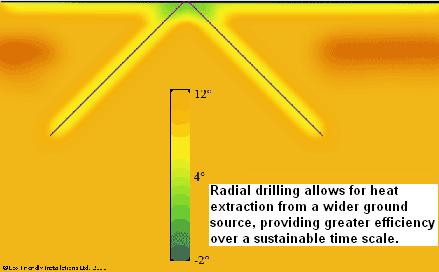 Perhaps most importantly, drilling at angles enables boring to take place beneath existing constructions if necessary, preventing the need for a large area of land surrounding the property. Consequently radial drilling is perfect for many commercial and domestic retrofit installations which previously may not have been viable locations for ground source heating, due to limited land and cramped boundaries. In addition the rig for the radial drilling system is surprisingly compact making even the most challenging and restrictive locations accessible.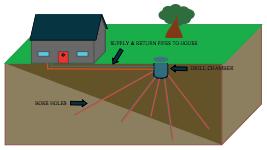 Given the current climate and the concerns that have accompanied the first set of EST trials, it is apparent that value for money and quality of product is paramount to consumers. Whether looking to make savings on their energy consumption or purely to reduce their carbon footprint, the promise of a high COP will be a draw to all. If however, some non-radial drilling heat pump systems continue to fail to deliver what they promise, broken reputation could be their downfall and no amount of hard sell will restore faith in these systems. Radial drilling could be one way to ensure efficiency, certainly in terms of energy collection and it is possible that the versatility of the system combined with the compact nature of the drill rig may open the heat pump market to a whole new consumer base.
Additional Information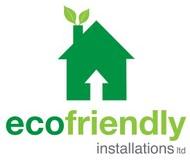 This article was prepared in consultation with Ecofriendly Installations Ltd, specialists in radial drilling for ground source heat pump installation. From initial enquiry and planning through drilling and installation of the heat pump, their friendly and experienced team will ensure an efficient and professional installation.
Ecofriendly Installations use a revolutionary new radial drilling system, the most sustainable and efficient way of capturing heat from the ground. Radial drilling enables consistently more heat per metre to be captured than the leading alternatives and is perfect for many domestic installations where preservation of existing areas such as gardens, patios or driveways is important.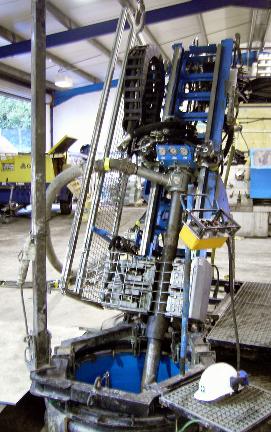 For a more in depth explanation of how the system works and the benefits it provides, please visit the Ecofriendly Installations website, or email one of their advisors on info@ecofriendlyinstallations.com.
Ecofriendly Installations Ltd, Penrhos, Aberdyfi, Gwynedd, LL35 0NR
Tel: 01654 767572