600MW Shetland Wind Farm
600MW Shetland Wind Farm
Shetland Islands plan 600MW community windfarm
home
>
wind
|
news
Printer Friendly Version

Scottish and Southern Energy
(SSE) are to sign an agreement with the Shetland Islands Council's
Viking Energy
today (19th Jan '07) at the Busta House Hotel for a 200
wind turbine
600 MW
windfarm
. Subject to planning permission being obtained for the wind turbines, undersea power cable, and other infrastructure, the windfarm would provide up to one-quarter of the power used in Scotland and generate up to 25 million pounds per year for the Shetland Islanders.
Costing up to £500 million, the
wind farm
would reduce
CO2 emissions
in the UK by over 2 million tonnes - equivalent to 5% of Scotland's current total emissions. 12 times more electricity will be generated than is needed by Shetland and so the rest can be exported to the mainland national grid by a proposed £500 million sunsea transmission cable.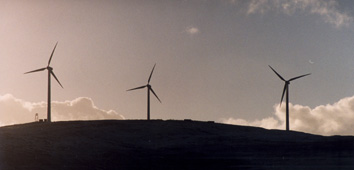 Shetland is one of the best locations in the world for
wind power
- for example, the existing small windfarm (
Burradale
) near Lerwick on the islands has an average capacity of 53% - a world record for wind generators. Last year this windfarm had an average capacity of 57.9% - well over double the UK average!
The proposed scheme is very popular with locals with 76% saying they are supportive, and just 6% found to be
opposed
in a recent MORI telephone poll. The main reasons for oppositions were fears for local bird life, loss of views, and there being too many turbines.
Currently Shetland is not connected to the UK national grid. It's electricity needs are met by a 67MW diesel power station in Lerwick and the 5-turbine Burradale wind farm. Shetland's peak electricity need is 49MW.
The Shetland
wind farm
, if completed, will be the world's largest community owned wind project. SSE and Viking Energy plan to commence building in 2012.
Find out more about this project by visiting the
Viking Energy Ltd
website, or the
Scottish and Southern Energy
website.

Article Last Modified: 11:01, 19th Jan 2007
Comment on this Article
If you have any comments on this article, please email them to
neil@reuk.co.uk
.
---
Related Articles
Click one of the links below for further articles on the following
relevant topics
:
wind, news
.