Amberjac Plug in Prius
Amberjac Plug In Prius
Modify your Toyota Prius to get 130mpg
home
>
transport
|
news
Printer Friendly Version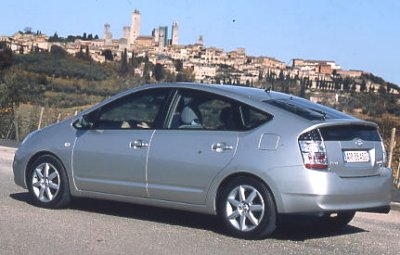 The
Prius
, often mocked hybrid manufactured by Toyota has been transformed by
Amberjac Projects
of Grantham into a 130mpg super car. While Toyota have claimed the Prius can achieve 65mpg on an urban cycle, empirical evidence suggests that below 50mpg is more realistic. Amberjac's
Plug-in Prius
upgrade however can halve fuel consumption and cut CO2 emission levels low enough to qualify for the new zero rate car-tax band.
The major change is in battery technology - nickel metal hydride is replaced by lithium iron phosphate providing seven times the storage of the originals. These batteries can be charged overnight through a socket hidden under a flap in the bumper for just 22 pence. The range of the Plug-in Prius in pure electricity mode is 30 miles. As soon as the speed of the car reaches 31mph the petrol engine kicks in achieving
120mpg at 60mph
.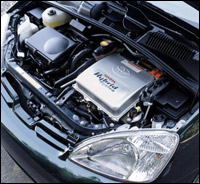 Upgrading a Prius into a Plug-in Prius currently costs just under £8k plus VAT, but all of the new hardware can be removed and put into your next prius. Amberjac also offer lower powered battery packs for a few thousand pound less for people who do not need the capability to drive long distances on pure electric power.

Article Last Modified: 09:49, 13th Dec 2006
Comment on this Article
If you have any comments on this article, please email them to
neil@reuk.co.uk
.
---
Related Articles
Click one of the links below for further articles on the following
relevant topics
:
transport, news
.