EcoBalls Laundry Kit
EcoBalls Laundry Kit
Find out more about using EcoBalls instead of detergent
water
|
carbon
|
energy efficiency
&nbsp
Printer Friendly Version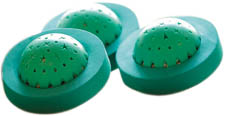 EcoBalls
offer an environmentally friendly alternative to
washing powder
and detergents. Three EcoBalls are placed in the drum with the washing and
no
washing powder is necessary. Lasting up to
1,000 washes
, one set of EcoBalls can save up to
50 boxes
of washing powder, greatly reducing your
carbon footprint
, and your impact on the environment.
Costing just
3 pence per wash
, a set of EcoBalls can
save
you up to 20 pence per wash, or up to £200 during their lifetime. A shorter rinse cycle can also be used (since their is no detergent to rinse away) thereby
reducing water consumption
.
How to Use EcoBalls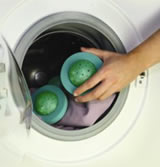 With an
EcoBalls laundry kit
a stain remover is included . Use this on any stubborn stains before placing the washing in the drum of the washing machine as normal, with the three EcoBalls placed on top. EcoBalls do not include a bleaching agent, so add a
natural bleach
if required. Then run the washing machine at a maximum of 60 degrees Celcius (although you can
wash most clothes at 30 degrees
).
Since EcoBalls are not
perfumed
(unlike most washing powders) you may want to add a drop of an essential oil to the washing conditioner tray so the washing comes out smelling of flowers.
When the washing machine has finished, take out the EcoBalls and
leave them to dry
. They must not be put in the tumble dryer or left sitting in the wet washing for too long.
How do EcoBalls Work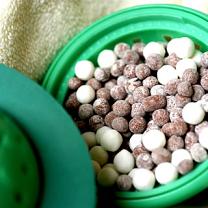 Each
EcoBall
contains mineral salts which release
ionized oxygen
when in water. This inonized oxygen penetrates deep into clothing breaking up and lifting off dirt and grease.
EcoBalls Reviews
The majority of
EcoBall reviews
(there are
thousands
online) state that EcoBalls do well when washing lightly soiled clothing, but struggle to get heavily soiled clothing clean. Therefore, many people continue to use detergent for their dirtiest washing, but use EcoBalls at all other times. A
30-day money back guarantee
is available if you are not satisfied with the product which should give peace of mind.
EcoBalls Refills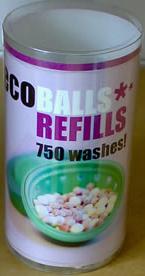 Refills
are available so that EcoBalls can continue to be used after the first 1,000 washes. For under £20 a 270g bag of
EcoBalls Refill Pellets
can be purchased which will last for '
up to 750 washes based on a 30 minute washing cycle
'.
Buying EcoBalls and Refills
EcoBalls
and
EcoBalls Refills
are available in the UK for around £30 and £20 respectively. Click here to
buy EcoBalls
now (for just
£34.99
£23.99
) from
Ethical Superstore
, or here to
buy EcoBalls Refills
(£19.99) from
Nigel's Eco Store
.

Article Last Modified: 14:05, 17th Aug 2012
Comment on this Article
If you have any comments on this article, please email them to
neil@reuk.co.uk
.
---
Recommended Related Articles
People who read this article also enjoyed the following articles:
Make Your Own Air Conditioner
Find out how to construct a simple cheap air conditioning system
Article Last Modified: 13:36, 14th Nov 2007
general
|
geothermal
What is a Peltier Cooler
Introduction to Peltier coolers and their alternative uses
Article Last Modified: 14:48, 9th Aug 2012
thermoelectric
|
heating
Rainwater Toilet Flush System
Find out how to put together a complete rainwater fed toilet flushing system
Article Last Modified: 15:16, 19th Aug 2008
water
|
general
|
electronics
Introduction to Water Wheels
Find out more about using the power of a waterwheel
Article Last Modified: 10:16, 12th Nov 2008
hydro
Electricity from Waterwheels
How to generate electricity from a waterwheel
Article Last Modified: 14:12, 27th Mar 2006
hydro
Calculation of Wind Power
Calculate the power of the wind hitting your wind turbine generator
Article Last Modified: 15:06, 18th Apr 2008
wind
|
education
Building a Waterwheel
The story of the construction of a DIY waterwheel in the UK
Article Last Modified: 14:16, 6th Jun 2008
hydro
|
education
Freeloader Pro
Introduction to the new Freeloader Pro - the ultimate professional solar charger
Article Last Modified: 14:35, 16th Sep 2011
solar
|
shopping
|
general
Easy to Make Thermocouple Thermopile
Make your own thermoelectric generator thermopile with paper clips and copper wire
Article Last Modified: 14:52, 10th Aug 2012
thermoelectric
|
education
PVC Wind Turbine Blades
Learn how to make your own PVC wind turbine blades
Article Last Modified: 15:16, 19th Aug 2008
wind