North Hoyle Offshore Wind Farm
North Hoyle Offshore Wind Farm
View the UK's first major offshore wind farm: North Hoyle Offshore Wind Farm
home
>
wind
|
news
Printer Friendly Version

North Hoyle
, pictured above, was the first major
Offshore Wind Farm
in the UK and generates enough electricity to power 40,000 homes. Operational since December 2003, this £80m wind farm offsets 160,000 tonnes of Carbon Dioxide every year. North Hoyle was constructed as part of a unique partnership between
npower
and
greenpeace
called
npower Juice
. Electricity from the wind turbines and other renewable sources is supplied by
npower Juice
with each unit of power used by its customers matched with a unit of renewable energy. In effect this means that all of the power you use is from renewable sources - and at no extra cost. To find out more about
changing to a green electricity supplier
click here.
Located 5 miles off the coast of North Wales between Rhyl and Prestatyn are a total of 30 two-megawatt wind turbines. Each stands in around 12 metres of water with the hub of the 80 metre diameter rotors located at 67 metres above mean sea level. The turbines are situated 350 metres from each each north-south, and 800 metres apart from east-west covering a total area of 10 square kilometers. A total of almost 40km of subsea cables connect the turbines and then take the generated electricity to an exisiting Rhyl substation onshore where the power is transfered to the national grid network.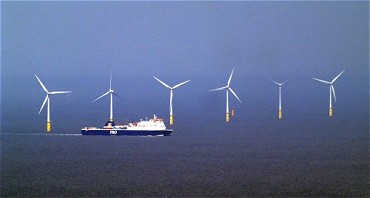 Article Last Modified: 09:49, 13th Dec 2006
Comment on this Article
If you have any comments on this article, please email them to
neil@reuk.co.uk
.
---
Related Articles
Click one of the links below for further articles on the following
relevant topics
:
wind, news
.