Phoenix Motorcars SUT Electric Car
Phoenix Motorcars SUT Electric Car
Find out about a Phoenix Motorcars electric sports utility truck
home
>
transport
|
storage
Printer Friendly Version


Pictured above is the
Phoenix Motorcars
all-electric Sports Utility Truck (SUT) which will be hitting US streets in early 2007. The truck,soon to be followed by a sports utlitity vehicle (SUV) - pictured below, offers a range of 130 miles and can be charged in just 10 minutes or trickle charged at home at night. It will come to market at a little over $40,000.

The
electric truck
can comfortably cruise at (an engine limited) 95 mph while carrying five people AND a full 500kg payload, however it has an impressive theoretical top speed of around 120 mph.
Power
The truck will accelerate from 0-60 mph in under a little under 10 seconds, brakes back to 0 mph in 150 feet, and offers 120 horse power. Peak power output is 100KW with 55KW the sustainable continuous power output.
Battery Power
The Phoenix Motorcars electric SUT carries
NanoSafe
Titanate Lithium Ion batteries offering 35KWh of stored power. This battery bank can be charged with a 250kW high power charger from flat to 95% of full capacity in just 10 minutes. Fitted on board is a 220 Volt 6.6KW charger which will fully charge the vehicle in 6-8 hours, and so it can be left to trickle charge the batteries overnight in the garage.
By 2007 an extended battery pack will be installed almost doubling range to 250 miles while still permitting a 10 minute high power charge.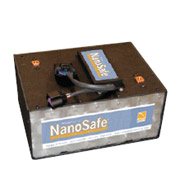 The
NanoSafe
batteries are designed and manufactured by
Altair Nanotechnologies
using the latest
nanomaterials
. The graphite negative electrode found in standard lithium batteries is replaced in the
NanoSafe
with
nano Lithium Titanium Oxide
(nLTO).
The use of this innovative new nanomaterial is supposed to improve the abilities of its batteries to hold charge.
Altair Nanotechnologies have tested their battery through 15,000 cycles - full charge to full discharge and back again. After this test - equivalent to 40 years of daily recharging and use - the battery still kept over 85% of its original charging capacity!

Article Last Modified: 16:02, 27th Dec 2006
Comment on this Article
If you have any comments on this article, please email them to
neil@reuk.co.uk
.
---
Related Articles
Click one of the links below for further articles on the following
relevant topics
:
transport, storage
.