RAV4 Electric Vehicle
RAV4 Electric Vehicle
Learn about the Toyota RAV4 Electric-Powered SUV
home
>
transport
Printer Friendly Version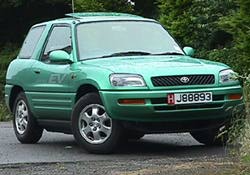 In 1997 Toyota (makers of the
Prius Hybrid Car
) launched the
Toyota RAV EV
, a purely electric powered car. By 2002 a total of around 1250 had been sold to the US public before it was discontinued. With petrol costs now soaring, if you are lucky enough to own one of these vehicles, you'll be enjoying 110 mpg (110 miles per US$3 - the current cost of one US gallon of petrol).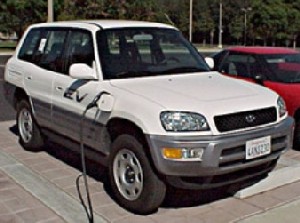 The
RAV4 EV
is an electricity powered conversion of the standard RAV4 SUV. It is not a hybrid - it is powered solely by a bank of 24 12-volt NiMH batteries which can output a total of over 27 kWh of energy. The RAV4 EV is limited to 80 miles per hour and has a range of around 100 miles on a full charge. The car is supplied with a 6000 Watt wall fitting 220 volt / 30 Amp charger which will fully charge the battery bank in around 5 hours. This
electric vehicle
cost just $39,000 all inclusive.
The most expensive part of the RAV4 EV is the
battery bank
costing over $20,000 to replace due to short supply. However new lithium ion technology is now offering batteries which are cheaper, longer lasting, and which store more power (increasing the range of the vehicle). Most of the other parts of the vehicle are standard on the popular petrol powered RAV4 car and so general maintenance is no more expensive.
Further details and useful links can be found at the
Wikipedia
entry for the Toyota RAV4 EV.

Article Last Modified: 12:25, 14th Dec 2006
Comment on this Article
If you have any comments on this article, please email them to
neil@reuk.co.uk
.
---
Related Articles
Click one of the links below for further articles on the following
relevant topics
:
transport
.