Solio Magnesium Edition Product Review
Solio Magnesium Edition Product Review
A product review of the Solio Magnesium Edition - solar iPod, and mobile phone charger
home
>
shopping
|
solar
|
storage
|
general
Printer Friendly Version

In our article
Solio Solar Charger
we looked at the original
Solio
- now rebranded as
Solio Classic
.
Solio Mg
(Solio Magnesium) is an improved and restyled version of this solar-powered universal charger.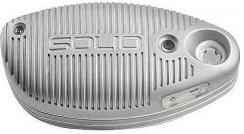 Differences between Solio Mg and Classic Solio
The first and most obvious difference between
Solio Magnesium
and the Solio Classic is the
magnesium alloy
shell which looks great and is also very robust, and lightweight. It has an elegant matt finish which means it still looks great even when covered with sticky fingerprints (from suncream etc), and hides the inevitable scrapes and scratches (on this not very scratchproof material).
The inbuilt rechargeable lithium ion battery has been boosted from
3.6V 1,600mAh
to
3.8V 1,800mAh
a stored power increase of
15%
. The battery will hold its charge for
one year
.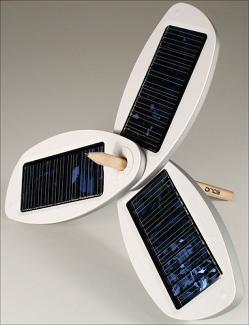 The specification for the solar panel output of Solio Mg is
0.85 Watts
(150mA at 5.5V) which is a little less than the 0.93 Watt power output of Solio Classic.
Solio Mg is also 15% heavier than Solio Classic, but still weighs in at under 190g, and is also a
tiny
bit bigger.
As with Solio Classic, Solio Mg is supplied with a 6V 420mAh global travel adapter with US, UK, EU, Australia and NZ adapters. A
hemp drawstring bag
is provided for carrying the device and its accessories, and a Solio-branded
pencil
is included too (shown in action in the photo a few paragraphs above).
Charging Solio
Put simply,
Solio
is a solar panel with a built-in battery. You can charge the battery all day in the sunshine, and then use that stored energy to power an iPod later.
Outside
in
direct sunlight
, the internal battery can be fully recharged from flat on
one day
. However, if the device is left indoors on a window ledge, or in intermittently cloudly conditions, it can take a couple of days to charge up. For fast charging, the mains adapter provided will fill the battery in around
6 hours
- perfect for overnight charging before going out for the day.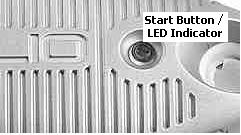 An
LED indicator
is fitted into the
start button
, and offers some very useful functions. First of all, it is used to indicate the level of charge of the batteries. Press the button once and a green LED will flash 1 to 5 times, 1 = 20% charged, 2 = 40% charged..., 5 = 100% charged. In addition, when the Solio Mg is under the sun, or plugged into the mains, the indicator LED goes from
red
(charging) to
green
(fully charged) so you know what is going on.
Powering Your Devices
Classic Solio
is supplied in a package with either a selection of common mobile phone connectors, or iPod connectors included.
Solio Mg
is supplied just with a standard female
USB cable
for connection to iPods and other large MP3 players.
For non-USB powered devices - e.g. mobile phones, hand held computers/PDAs, small media players, digital cameras, and game players, etc - a
power tip
is required. This plugs onto the end of the supplied
iGo tip system charging cable
, and is then plugged into the device to be charged.
If you want to use
Solio Mg
with multiple different devices, you would need to purchase multiple
power tips
for between £5 and £9 each. Pictured above is the
A30
power tip for use with
BlackBerry
which retails at
under £7.00
.
Click here for more information and pricing for the comprehensive range of :
iGo Power Tips
.
To get
Solio Magnesium
to charge/power a device, you connect everything up as explained above and press the
start button
. The LED indicator will flash green to indicate the current level of charge and then go to a solid green while charging takes place. When Solio Mg has finished recharging the battery of an attached device - e.g. a mobile phone - it automatically switches off the LED to indicate that charging is complete (or that it has itself run out of power).
Solio Magnesium
Solio Magnesium Edition
is a beautiful, well designed, and well built device. Costing around or just over
£100
plus the cost of the
iGo tips
it is certainly not cheap, and being made in China from a magnesium alloy it has a fairly huge
carbon footprint
. However, Solio Mg should last many years (as long as its internal battery can be replaced after 3-5 years), will greatly reduce the number of disposable batteries thrown into landfill, and is a wonderfully simple to use solar powered charger which does the job expected of it very effectively.
Buy Solio Magnesium Edition in the UK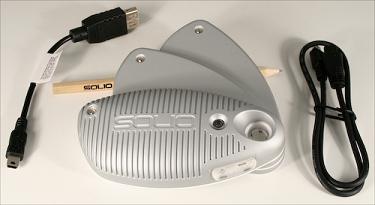 Solio Mg
is best priced in the UK at
£99.95
at
Ethical Superstore
. Click here to
purchase Solio Magnesium
now.
If you would prefer to purchase
Solio Classic
(for
£49.95
) click here for purchase details:
Solio Classic
.
More Solio Information
The
Solio
range of chargers are produced by
Better Energy Systems
. Click here to visit the official
Solio
website.

Article Last Modified: 10:26, 31st Mar 2009
Comment on this Article
If you have any comments on this article, please email them to
neil@reuk.co.uk
.
---
Related Articles
Click one of the links below for further articles on the following
relevant topics
:
shopping, solar, storage, general
.