Under 1000GBP Grid Tied Turbine
Under 1000GBP Grid Tied Turbine
Grid tied wind turbine generator for under £1000
home
>
wind
Printer Friendly Version

The popularity of the
B and Q Wind Turbine
offer - £1500 installed for a
Windsave 1000
system - has led to a lot of interest in more affordable alternatives.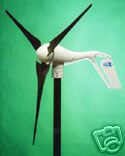 Pictured above is the turbine for one such system available on eBay from
harnessthewind
. A complete kit is available for under £1000 (plus £55 for UK delivery). Included is a super quiet 4-foot blade span
wind turbine
with 600 Watt
grid tie inverter
and all necessary cables and connectors. As with the
Windsave 1000
, the inverter is simply plugged into any power point at your home and power can be drawn directly from any power point on the same ring while the turbine is turning.
Note that any power generated which is not immediately used goes into the National Grid but you will not be paid for it and your electricity meter will not turn backwards

Article Last Modified: 09:50, 13th Dec 2006
Comment on this Article
If you have any comments on this article, please email them to
neil@reuk.co.uk
.
---
Related Articles
Click one of the links below for further articles on the following
relevant topics
:
wind
.