Whitelee Wind Project
Whitelee Wind Project
GBP 300 million Whitelee Wind Farm. 140 Turbines generating 322MW of Power
home
>
wind
Printer Friendly Version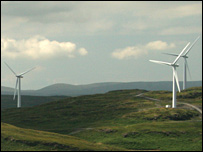 The Scottish Executive has finally approved plans for the largest
onshore Wind Farm
in Europe which will now be completed in 2009 at a cost of
GBP 300m
. ScottishPower Renewables'
Whitelee Project Wind Farm
will consist of 140 110 metre tall
Siemens
2.3 MW
wind turbines
generating a total of
322MW
of power. That is sufficient to provide electricity to virtually every home in Glasgow - a total of 200,000 homes. The site is located on high ground on Eaglesham Moor south of Glasgow with the turbines located across an area of 7 x 4 miles of moorland and forest. The generated power will prevent emissions of over 650,000 tons of
carbon dioxide
every year from fossil fuels which would otherwise have to be burned.
May 2009 Update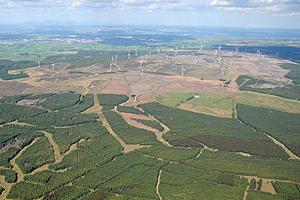 After ten years of planning and three years of construction, the
Whitelee Wind Farm
has now been completed and officially switched on by Scottish First Minister Alex Salmond (on May 20th 2009). He announced that (Spanish-owned)
ScottishPower Renewables
have been given permission by the Scottish Government to expand the wind farm with a further
36 wind turbines
giving the wind farm a total capacity of
452 MW
. He pointed out that Scotland had the potential to generate up to
60GW
from renewable sources - ten times more than their peak electricity demand!
During construction, this project
employed 500 people
, and contributed GBP 300 million to the Scottish economy. Up to 300
green jobs
may also be created in the area maintaining the wind farm, the 50 miles of roads and tracks which criss-cross the site, and the GBP 2 million
visitor centre
.
Useful Links
ScottishPower Renewables
- Details of ScottishPower's plans to demonstrate how wildlife can co-exist successfully with wind farms.
Whitelee Windfarm Information Leaflet
(PDF) published before the windfarm was constructed.

Article Last Modified: 12:23, 27th May 2009
Comment on this Article
If you have any comments on this article, please email them to
neil@reuk.co.uk
.
---
Related Articles
Click one of the links below for further articles on the following
relevant topics
:
wind
.