XCO2 Elegant Wind Turbine
XCO2 Elegant Wind Turbine
The Quietrevolution 6kW wind turbine
home
>
wind
|
general
Printer Friendly Version

The
Quietrevolution
is an elegant 6kW vertical axis wind turbine designed and developed by
XCO2
is coming to a town near you in early 2006. It is virtually silent and free of vibration with just one moving part making maintenance simple. It is designed to run for 25 years generating electricity at wind speeds of between 4.5 and 16 metres per second. Depending on the geographical location of the turbine and its height, total power generation is between 5000 and 1000kW hours.
LEDs (light emitting diodes) can be embedded into the turbine blades and turned on and off in sequence as the turbine rotates displaying an amazing hovering image which is visible night and day.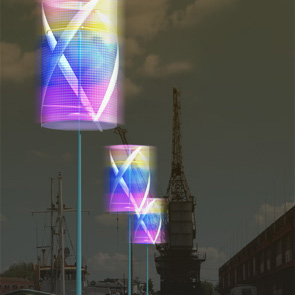 Article Last Modified: 12:55, 10th Mar 2006
Comment on this Article
If you have any comments on this article, please email them to
neil@reuk.co.uk
.
---
Related Articles
Click one of the links below for further articles on the following
relevant topics
:
wind, general
.