240V LED SPOTLIGHT BULB
240V LED SPOTLIGHT BULB
Home
>
REUK Shop
>
Energy Efficient Lighting
240V LED GU10 bulb. 20 x 20,000mcd white LED 1 Watt bulb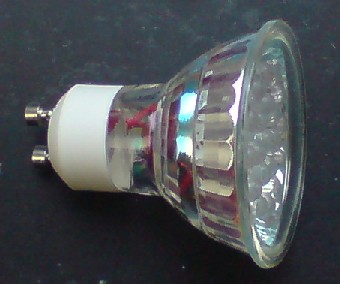 (1-5:
£4.99
each, 5+:
£4.79
each)
OUT OF STOCK
Additional Information
These are
high quality
UK mains electricity powered
240 Volt GU10 LED Spotlights
. Each bulb contains 20 20,000 mcd ultrabright LEDs providing a pure brilliant
white
light (6400K colour temperature) very different from the bluish-white light generated by inferior
white
LED spotlights on the market.
These
low energy
bulbs use approximately
1 Watt
of electricity - a reduction of over 95% compared to the
240 Volt halogen spotlight bulbs
they replace. They have the added benefit of a life expectancy of around
30,000 to 50,000 hours
equivalent to 5 years of continuous usage!
Using these bulbs is simply a matter of removing the existing (incandesent) halogen spotlight bulb from the standard
GU10 fitting
and replacing it with the LED bulb.
Technical Specifications
Lamp lifetime: 30,000 to 50,000 hours
Lamp dimensions: 50mm diameter, 55mm length
Lamp type:
GU10
Dichroic Cup
Number of LEDs: 20
Lamp intensity:
40-50 Lumens
LED diameter: 5mm
LED colour:
5,400K (white)
LED beam angle: 10 to 20 degrees
LED luminous intensity: >20,000mcd
Input voltage:
240 VAC
50/60 Hz (UK mains)
Input current: 0.012-0.016 Amps
Input wattage:
0.9-1.1 Watts
LED Spotlight Bulbs and Dimmer Switches
The drawback of
LED spotlight bulbs
is that they
cannot
be used with dimmer switches. If these bulbs are used with dimmer switches their lifetime will be enormously reduced. Click here to read our article
240 Volt AC LED Bulbs and Dimmer Switches
for more information on this topic.
Related Products and Articles