MULTIMETER
MULTIMETER
Home
>
REUK Shop
>
Renewable Energy System Parts
Digital high-accuracy LCD Multimeter with rubber holster, built in stand, test leads, battery, and instruction manual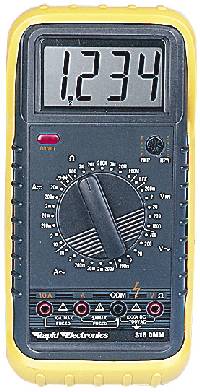 (1-5:
£12.99
each, 5+:
£12.29
each)
OUT OF STOCK
Unfortunately we are currently
out of stock
of this item.
We suggest you
buy MULTIMETER here
instead.
Additional Information
This LCD
multimeter
offers high accuracy measurements of AC and DC
voltage
, AC and DC
current
, and
resistor
values and will also test
diodes
,
transistors
, and also has a
continuity tester
.
Measurement Ranges
In total there are 32 measurement ranges:
DC Voltage
0.1mV to 1000 Volts
AC Voltage
0.1mV to 700 Volts
DC Current
0.01 micro Amps to 10 Amps
AC Current
0.01 micro Amps to 10 Amps
Resistance
0.1 Ohms to 200 Mega Ohms
Included Items
This multimeter set comes complete with a PP3 (9 volt) battery, test leads, and a comprehensive instruction manual. The multimeter is fitted into a rubberised holster to protect it from knocks, and it has a two height stand incorporated into the base. Test leads can be stored in the holster when not in use, and the multimeter can even be wall mounted through the holster.
The multimeter is 31.5mm thick, 91mm wide, and 189mm long and has a super large LCD display which can be read clearly at distance and from acute angles. A
low battery warning
is also present.
Related Products and Articles
1.5a Toggle Switch £1.29
1.5 Amp toggle switch with ON/OFF markings. Very strong and durable.




3 Phase 35a Bridge Rectifier Kit £13.99
Complete kit to build your own three phase bridge rectifier - 3 bridge rectifiers, connecting cables and terminal blocks




5a Fuse £1.29
5 Amp inline fuse holder with one each of 1A, 2.5A, and 5A 20mm fuses




Karasouli Scc 20 Charge Controller £43.95
20A rated wind turbine charge controller and dump load controller with blocking diode and heatsink