VOLTMETER
Buy now from the REUK Shop
Home
>
REUK Shop
>
Renewable Energy System Parts
First class
Postage and Packaging
on all orders is just
£2.45
in the UK.
To view your
shopping basket
click here.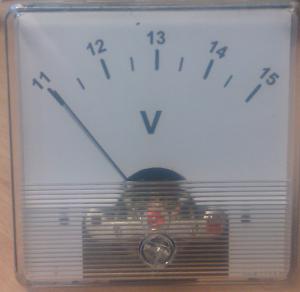 Additional Information
11-15 Volt DC Voltmeter
This
moving coil
voltmeter measures voltages from 11-15 Volts DC making it perect for a range of different 12VDC
renewable energy
applications.
The dimensions of the unit are 60 x 60 x 30mm. It can be panel mounted, with the voltmeter sticking out 10mm from the panel with the remainder inside the panel. The necessary fittings are supplied for panel mounting.
The voltmeter is has a sturdy black moulded ABS plastic case with a clear window, and is prefitted with the red and black leads to connection into the system to measure voltage.
Related REUK.co.uk Articles
Find out how to monitor the health of your RE system's generator and batteries