Cheap CFL Lighting
Cheap CFL Lighting
Subsidised CFL Bulbs
home
>
lighting
|
energy efficiency
Printer Friendly Version

Powergen
, one of the UK's biggest electricity suppliers, is now offering cash sponsorship to over 200 major UK retailers in a bid to get them to cut prices on
compact flourescent lights (CFLs)
. Currently these energy efficient bulbs retail at between £2 and £8, but will soon be available for as little as 50p each. For as little as £12 the typical UK home can have all of it's old incandescent bulbs replaced reducing the average electricity bill by a couple of hundred pounds.
To claim
free or reduced price CFL bulbs
or free or subsidised home insulation, click here.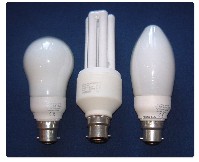 It may seem strange that a company that make money by selling electicity is paying money to make us buy less electricity, however it is being forced to fulfil its obligation to the government's Energy Efficiency Commitment. Therefore, in conjunction with the Lighting Association, it has set up the
Energy Efficient Lamp Scheme
. In addition, if we all use less electricity, Powergen does not have to spend hundreds of millions of pounds building new power stations and wind farms etc.
Jonathan Smith of E.ON (parent company of Powergen) says that replacing all light bulbs in the UK's 20 million households would save £4.8bn on electricity bills - the cost of building 64 offshore wind farms, 53 biomass power stations, or 14 gas-fired power stations.

Article Last Modified: 12:32, 23rd Mar 2006
Comment on this Article
If you have any comments on this article, please email them to
neil@reuk.co.uk
.
---
Related Articles
Click one of the links below for further articles on the following
relevant topics
:
lighting, energy efficiency
.