David Cameron No Wind Turbine
David Cameron No Wind Turbine
Six months on still no sign of David Cameron's famous wind turbine
home
>
wind
|
solar
|
general
|
news
Printer Friendly Version

Back in the spring of 2006 we posted a surprisingly popular short
article
on Conservative leader
David Cameron
's plans to install
Eclectic Energy's D400 StealthGen
wind turbine generator on his luxury property.
Planning approval for the
wind turbine generator
and other green modifications to his North Kensington home was granted back in the summer subject to a 3-year review (Cameron was "Delighted"), yet at the time of writing (21st Dec 2006) there is still no sign of any
wind turbine
.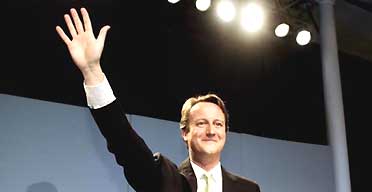 Micro-Wind Turbines
have been receiving quite a hard time recently with experienced wind power experts drawing attention to exaggerations by manufacturers about the real world power generation to be expected from these domestic devices. Coupled with other problems published about
roof-mounted wind turbines
it seems like Mr Cameron has got cold feet. Now he states that he is delaying installation until
wind turbine technology
improves.
He doesn't need improvements in wind turbine technology. He needs a turbine with larger blades to catch more of the wind, and he needs to put it in a location as high as possible and as far away as possible from surrounding buildings and trees - not on his West London roof!
See also our article
Consumers Disappointed with Micro Wind Turbines
.

Article Last Modified: 18:00, 21st Dec 2006
Comment on this Article
If you have any comments on this article, please email them to
neil@reuk.co.uk
.
---
Related Articles
Click one of the links below for further articles on the following
relevant topics
:
wind, solar, general, news
.