David Cameron Wind Turbine
David Cameron Wind Turbine
Conservative leader David Cameron's foray into alternative energy
home
>
wind
|
solar
|
general
|
news
Printer Friendly Version

March 2006
Conservative leader
David Cameron
is planning to install small scale solar and wind power generators on his Victorian semi in north Kensington, West London. He has earmarked £15,000 for several photovoltaic solar panels, a solar thermal system to heat water, and one of the latest micro wind turbines -
Eclectic Energy's D400 StealthGen
.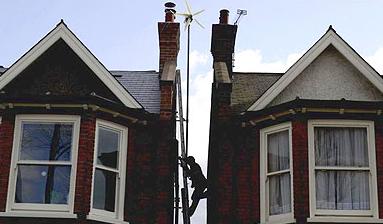 21 December 2006
Update: Read the latest news about David Cameron and his
Wind Turbine
(or lack thereof) here.

Article Last Modified: 19:46, 22nd Jun 2013
Comment on this Article
If you have any comments on this article, please email them to
neil@reuk.co.uk
.
---
Related Articles
Click one of the links below for further articles on the following
relevant topics
:
wind, solar, general, news
.