Google Powermeter
Google Powermeter
Google Powermeter - an online tool to track your home or office electricity consumption in real time online
home
>
energy efficiency
|
news
|
shopping
Printer Friendly Version

Over the years we have covered numerous domestic
power meters
starting with the original
Electrisave
. The one shortcoming of these power meters was once the inability to download and view the collected data on a PC. That all changed with the
Wattson Energy Meter
and the latest
OWL CM120 USB
, but they were still had their limitations and required a technical whizz to analyse the data. That is all going to change now with the launch of the new
Google Powermeter
here in the UK.
Google Powermeter
Google Powermeter
is offered
free
of charge as a
Google.org
philanthropic project. It is designed to be used with the
smart electricity meters
which will be fitted into all UK homes over the next decade. Currently only
first.utility
provide free smart meters to their customers with 30,000 customers signed up and waiting for their meters to be installed starting in November 2009.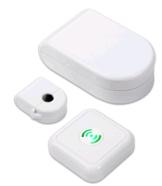 For everyone else, it is necessary to purchase a kit comprising a
meter reader
, wireless
transmitter
, and
Nano Hub
. from
AlertMe Energy
. This kit costs
£69
plus there is a
£2.99 per month
subscription charge (10 months for the price of 12 if you pay for one year in advance).
The meter reader, which is simply clipped around one of the cables coming out of the electricity meter, accurately measures realtime electricity consumption. This is then transmitted to the
Nano Hub
which in turn transmits the collected data over your
broadband
internet connection to the AlertMe service.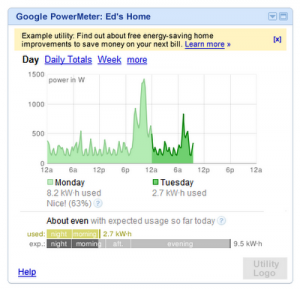 The data collected can be accessed online from anywhere in the world via your
iGoogle
account. Thanks to Google's speedy number crunching and expertise in displaying complex data as clearly and simply as possible,
Google Powermeter
is going to be a very powerful tool for anyone who wants to understand and reduce their electricity consumption.
Click here to visit the official
Google Powermeter
web page for more information.

Article Last Modified: 13:23, 29th Oct 2009
Comment on this Article
If you have any comments on this article, please email them to
neil@reuk.co.uk
.
---
Related Articles
Click one of the links below for further articles on the following
relevant topics
:
energy efficiency, news, shopping
.