Plugwise Energy Monitoring and Saving
Plugwise Energy Monitoring And Saving
Find out about the Plugwise system for energy monitoring and control of individual appliances
home
>
energy efficiency
|
shopping
|
carbon
Printer Friendly Version

In our article
Bwired Energy Usage and Home Automation
we looked at a home in the Netherlands which uses the
Plugwise
system to track electricity usage and control individual appliances. In this article we will look in more detail at Plugwise.
Plugwise
Plugwise
is a system which enables the electricity usage of individual appliances to be monitored in real time wirelessly. While a basic
plug-in power monitor
enables the
electricity consumption
of an appliance to be monitored, and devices such as
Owl
and
Efergy
enable whole house (or office) consumption to be tracked wirelessly,
Plugwise
goes one stop further.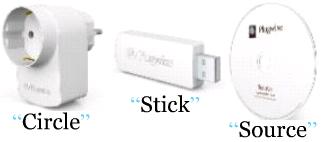 The Plugwise system is made up of three components pictured above and described below:
Circle
- a plug which goes between the plug of an appliance and the mains power socket.
Stick
- a USB device which is plugged into a personal computer and receives data wirelessly from the
Circle(s)
. This
Stick
can also transmit instructions wirelessly to
Circles
to turn appliances on or off.
Circle+
- a
Circle
which contains a real-time clock and battery.
Circle+
is used to co-ordinate the
Circles
within the network. This also acts as a regular
Circle
as described above.
Source
- software which is installed on the computer to process the collected electricity consumption data in realtime, display it numerically and in charts, and log it for later analysis. The
Source
software is also used to manually or automatically turn appliances on or off.
Plugwise
Circles
communicate with one another and with the
Stick
via the
ZigBee
wireless communication protocol. This protocol (not to be confused with
Bluetooth
) is designed for applications where
low data transmission rates
are acceptable,
long battery life
is essential, and
secure networking
is required. (Click here to view the
ZigBee
article in
Wikipedia
for more information).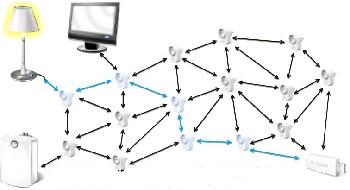 The
Circles
form a
mesh
network between themselves and the
Stick
. As the transmission range of ZigBee is limited, tranmissions from
Circles
distant from the
Stick
are sent by the shortest available route via other
Circles
located nearer to the
Stick
.
Each
Circle
has a unique ID code. Using the
Source
software you simply enter the name of the appliance plugged into each
Circle
having noted the ID codes, and you can start tracking
electricity consumption
immediately.
The Benefits of Plugwise
Plugwise
is primarily designed as an
energy saving
product. By being made aware of where electricity is used in the home and office, it is possible to identify ways to reduce consumption. With average consumpion of 3500 to 5000 kWh (units) of electricity per year for the average European household, Plugwise predict huge savings of 500-600 kWh are possible.
Since Plugwise can be used to turn appliances on and off (as well as measuring their electricity consumption), it opens up the unique possibility of
Peak Shaving
. At present when there is a surge in demand for electricity, suppliers struggle to meet it. In California for example, this has already led to serious power
blackouts
.
Peak Shaving
reduces peak demand by automatically switching off certain (non-critical) appliances in homes and offices when demand for electricity is about to exceed supply. Consumers who sign up to peak shaving programmes can expect
reduced tariffs
.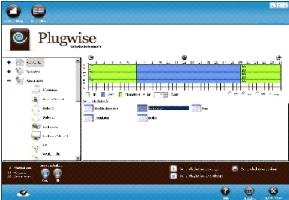 For those on
electricity tariffs
with different pricing at different times of the day, the Plugwise
Source
software can be set up to
schedule
tasks to benefit from the lowest rates - e.g. starting the dishwasher at night. This reduces the
cost of electricity
for the consumer, and again reduces
peak demand
for the utility company so that less new power stations will need to be built.
New Plugwise Products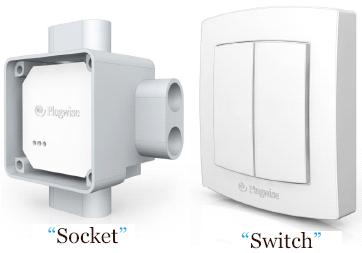 By the end of 2008 additional
Plugwise
components will be added. These include
Switch
- a battery powered
wireless double switch
which can be programmed (using
Source
software) to control multiple lamps and appliances at the same time, and
Socket
- a built in version of the
Circle
which will measure the consumption of fitted lighting circuits etc.
The next version of the
Source
software (scheduled for end 2008) will allow
bi-directional measuring
. This will enable
renewable energy
generation (
wind
and
solar
for example) to be tracked in the same way that energy consumption is already being measured.
Buying Plugwise
Plugwise
is currently only available with a Euro-style (two-pin) plug. At the start of 2009 a UK-style (3-pin) version will go on sale, but until then Plugwise
Circles
can be used with
travel adapters
(
two
per
Circle
!) here in the UK. The
Source
software is already produced in English, and the
Getting Started Guide
and full
Plugwise Manual
will be available in English also at the start of 2009.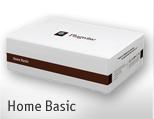 The standard
Home Basic Pack
includes one
Circle+
, eight
Circles
,
Stick
, and
Source
software for around
€360
. This can be coupled with the
Home Extension Pack
, available for around
€360
which contains ten
Circles
to extend your Plugwise network. A
Home Start Packet
is also available for around
€125
which has just one
Circle+
,
Stick
, and
Source
to get your started.
When you consider the price of a standard plug-in mains
power meter
(£10-30), and the additional functionality of the Plugwise
Circles
, they are great value for money at around £20 each.
For commerical buyers, flexible
Plugwise
packages are available for use within offices and large buildings under the name
Pro Basic
with up to 60
Circles
per network, multiple interconnected networks possible, more advanced software, internet access of collected data in realtime, and much more.
More Plugwise Information
Click here to visit the official
Plugwise Website
(in Dutch). An English language version of the website is available
here
, but currently there is more information and images of the Plugwise system on the original Dutch site. There are three
Plugwise videos
available to view here which are in Dutch, but give a good feel of what Plugwise can achieve.

Article Last Modified: 15:20, 8th Sep 2008
Comment on this Article
If you have any comments on this article, please email them to
neil@reuk.co.uk
.
---
Related Articles
Click one of the links below for further articles on the following
relevant topics
:
energy efficiency, shopping, carbon
.