Efergy homeCO2meter Review
Efergy HomeCO2meter Review
Read an REUK.co.uk review of Efergy's homeCO2meter electricity usage meter
home
>
energy efficiency
|
carbon
|
shopping
Printer Friendly Version

This is a detailed review of the
Efergy homeCO2meter
- a wireless device for measuring and tracking electricity usage in the home and office.
The Efergy meter is very similar in function to the
Electrisave
, so if you do not know anything about Electrisave please take the time to read our
introduction to Electrisave
and
Electrisave review
first.
NEW Click here to view our new comprehensive guide to
Wireless Electricity Monitors
with the latest models and up to date pricing.
Efergy homeCO2meter
The
Efergy
meter arrives in packaging clearly made from
recycled
materials (see image above). Unlike the Electrisave, the Efergy meter is supplied
batteries not included
. Two AAA batteries are required for the display unit, and two more for the wireless transmitter/sensor .
In the instruction manual it is recommended that
rechargeable batteries
* are used, however, the vast majority of people do not have
rechargeable AAA batteries
and a charger and so will be forced to go out and purchase disposable batteries. It would be better if a pack of four
green
disposable batteries were included with the meter, or even a set of rechargeable batteries and a charger.
*
Rechargeable batteries are not ideally suited to this sort of application since they have a rapid self discharge compared to disposables. This is why rechargeables should never be used in smoke alarms for example. If rechargeables are used with Efergy, expect to have to recharge on a monthly basis.
Installing and Configuring the Efergy Power Meter
Getting the
Efergy
meter up and running was very simple and took just two minutes from start to finish. The printed
instruction manual
is very clear, well laid out, and mercifully short.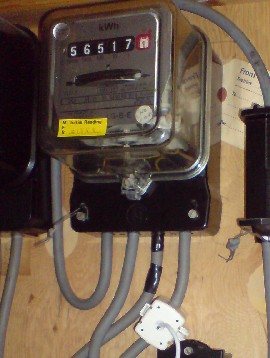 The image above shows the
efergy sensor
clipped onto the live cable of the electricity meter. With this sensor plugged into the wireless transmitter, it takes just one press of a button on the display unit to locate the sensor and to start displaying its readings. All that remains then is to to set the
cost per unit
(kWh) of electricity used, the time, the date.
As with the Electrisave, the cost per unit must be entered as a fixed amount despite the fact that many
electricity companies
offer
non-fixed tariffs
- e.g. a different price for the first few hundred kWh per quarter, cheaper prices at night etc.
Read the Configuring the Electrisave paragraph of our Electrisave Review to find out how calculate your average cost per unit
.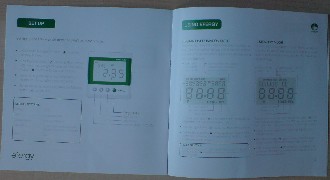 Setting the
time and date
etc is very simple - no more complicated than setting a watch - and the instructions are very clear and easy to follow.
An
alarm
can be set to sound if the amount of electricity being used exceeds a user-selected value. For example, if this is switched on and set to 5kW then, if a kettle is turned on at the same time as a tumble drier, the alarm will sound.
Efergy Memory Functions
Efergy offers exactly the same functions as Electrisave* - it displays instantaneous electricity usage in kW, as cost per hour, or as Kg of
CO2 emissions
. This on its own is hugely useful and led to our very strong
recommendation
of Electrisave as a product in our review of that product.
*
Only Electrisave has a thermometer and humidity sensor.
However, Efergy does not stop there - it has
memory
. Therefore it can display details of
total electricity usage
for today, each of the previous six days, this calendar month and each of the previous 23 months, and for this year. This information is absolutely
invaluable
and enables you to keep close track of your electricity consumption day by day as it (hopefully) reduces. Navigating the memory functions with Efergy is
very simple
and intuitive using the buttons on the display unit.

An
efergy
-branded ballpoint pen (pictured above) made of recycled materials is included with the Efergy meter. Perhaps it is with this pen the Efergy user is supposed to transfer the collected data to a chart or spreadsheet.
Conclusions about Efergy
This is a
fantastic product
providing a deeper level of functions than Electrisave while retaining the simplicity of operation of that product. As an additional benefit,
Efergy
is a full
£20-30 cheaper
than Electrisave! The information produced by Efergy can be used to save far more than cost of the device within months by helping you
reduce electricity consumption
.
NEW - Click here for information about the enhanced display version of
efergy
now available:
efergy eLite
.
Buy an Efergy Energy Saving Meter in the UK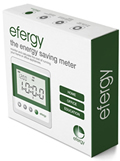 For details on how you can purchase an
Efergy meter
in the UK, please read our
Efergy Guide
.

Article Last Modified: 22:21, 24th Sep 2014
Comment on this Article
If you have any comments on this article, please email them to
neil@reuk.co.uk
.
---
Related Articles and Products
More from the
REUK.co.uk website
:
Click one of the links below for further articles on the following
relevant topics
:
energy efficiency, carbon, shopping
.