Scroby Sands Offshore Wind Farm
Scroby Sands Offshore Wind Farm
View Scroby Sands Offshore Wind Farm in Norfolk
home
>
wind
Printer Friendly Version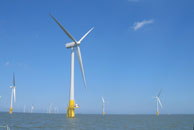 Scroby Sands Offshore Wind Farm
(pictured above) is located 1.5 miles off the coast of Great Yarmouth in Norfolk, England. It was the first major offshore wind farm to receive Government approval and was finally commissioned in December 2004. It is a Powergen project.
Scroby Sands was chosen for its proximity to major ports - an important consideration for transporting the enormous parts of the wind turbines, its high mean wind speeds (7.5 to 9m/s) combined with low wave forces, and because of the suitability of the shallow waters and seabed for building foundations. It is made up of a total of 30 two-megawatt wind turbines of the type (Vestas V80) also used in constructing the
North Hoyle Offshore Wind Farm
off the coast of North Wales (commissioned in December 2003).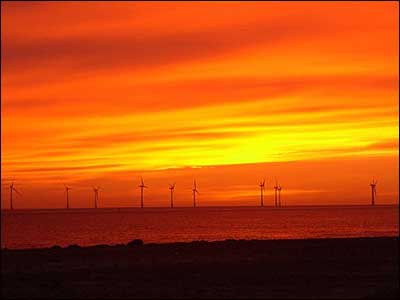 Article Last Modified: 14:50, 3rd Apr 2006
Comment on this Article
If you have any comments on this article, please email them to
neil@reuk.co.uk
.
---
Related Articles
Click one of the links below for further articles on the following
relevant topics
:
wind
.