20A FUSE
20A FUSE
Home
>
REUK Shop
>
Renewable Energy System Parts
20 Amp waterproof fuse-holder with LED warning indicator and 1 spare 20 Amp automotive fuse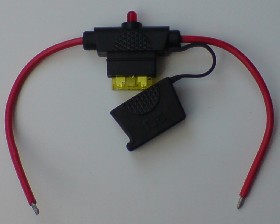 (1-5:
£1.99
each, 5+:
£1.79
each)
OUT OF STOCK
Additional Information
This
20 Amp Fuseholder and Fuses
are suitable for use in small scale domestic
renewable energy
systems. Included is one automotive 20 Amp fuseholder with two 20 Amp rated automotive fuses. A red LED bulb on the
fuseholder
indicates the fuse is good. A blown fuse can be simply unplugged from the fuseholder, and a new fuse plugged in.
The fuse (standard automotive type) is plugged into a holder and protected from the elements by a water and damp proof two part PVC assembly (pictured above).
Using This 20 Amp Fuse and Fuse Holder
This
fuse
should be connected into the system circuit as near as possible to the positive terminal of the
battery bank
.
Technical Specifications
Supplied with 110mm of 14AWG insulated wire (red) on each side of the fuse holder.
Fuse holder can easily be connected into circuit using Terminal Strip (also available in the REUK shop)
.
Voltage rating
20 Amps
from
12-24 Volts
.
Fuseholder is 46mm long and 35mm wide and is made from PVC.
Fits standard automotive blade type fuses including
quick blow
fuses.
Related REUK.co.uk Articles
Using a fuse to prevent a short circuit when connecting solar panel to battery