INSULATED 20 AMP CONNECTOR
Buy now from the REUK Shop
Home
>
REUK Shop
>
Cables and Connectors
First class
Postage and Packaging
on all orders is just
£2.45
in the UK.
To view your
shopping basket
click here.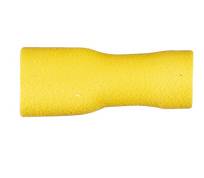 Additional Information
Each order placed is for
four
20 Amp rated fully insulated female push on recepticles - one for each leg on our
MB356 35 Amp Bridge Rectifiers
. The size of the
blade
is 6.3 x 0.8mm - exactly the same as that of the bridge rectifiers giving a perfect fit.
Compatible Wire
These connectors are designed for
10-12 AWG
wire. This corresponds to a diameter of 2.05mm to 2.59mm or a wire area of 3.29mm
2
to 5.26mm
2
which is the size of wire which should be used to build a multi-phase bridge rectifier using the MB356.
Using These Connectors
The wire is simply inserted into the hole at the non-spade end of the connector and crimped into place using a
crimp tool
(or pliers).
Stranded Wire
We recommend the use of
stranded wire
(wire composed of a twisted bundle of small gauge wire) since it is more flexible and is held more strongly by the connector than
single-strand
wire.
For more information about wire sizing view our AWG wire size converter
.
Related Products and Articles
3a Junction Block £0.69
3 Amp junction block (aka terminal strip) - one strip of twelve. Can be cut with a knife.




Black 1.4a Cable £0.19
Insulated tinned copper wire - 7 strands of 0.2mm. Overall diameter 1.2mm including insulation. Rated to 1.4 Amps. Price per metre (Black)




Red 1.4a Cable £0.19
Insulated tinned copper wire - 7 strands of 0.2mm. Overall diameter 1.2mm including insulation. Rated to 1.4 Amps. Price per metre (Red)