MB356
MB356
Home
>
REUK Shop
>
Electronics and Electricity
MB356 35 Amp 600 Volt Bridge Rectifier
(1-5:
£0.99
each, 5+:
£0.89
each)
OUT OF STOCK
Additional Information
MB356 35A 600V Bridge Rectifier
These 35 Amp Bridge Rectifiers are perfect for use within a
Wind Turbine
based renewable energy system.
Purchase three if your wind turbine generates three phase electricity, or just purchase one or two if that is all you need.
Technical Specs
These are
KBPC3506
(MB356) metal clad bridge rectifiers with fast on spade terminations and single hole fixing. They are rated up to
600 Volts
and up to
35 Amps
of current and have a low forward voltage drop.
Using Bridge Rectifiers with Wind Turbines
These
Bridge Rectifiers
are used to convert the alternating current generated by
wind turbines
into a direct current which can be used to feed a battery bank. One bridge rectifier is needed for each phase. Below is an image showing exactly how this is achieved for a typical three-phase set up (with the three bridge rectifiers fixed to a heat sink).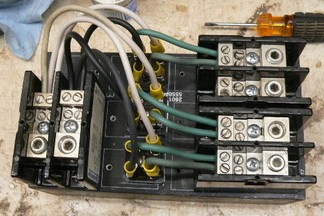 Related Products and Articles