David Cameron Wind Turbine Finally Installed
David Cameron Wind Turbine Finally Installed
Wind turbine generator installed at Cameron's West London home
home
>
wind
|
solar
|
general
|
news
Printer Friendly Version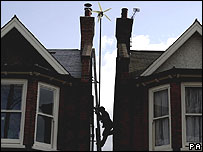 In March 2007 Conservative Party leader David Cameron finally had a
wind turbine
installed on his home. In spring of 2006 we reported
Mr. Cameron's intention
to have a
D400 StealthGen
wind turbine
generator (from Eclectic Energy) installed at his West London home. Six months later there was still
no sign of the wind turbine
and rumours circulated that he had changed his mind because micro-wind turbines generate
tiny amounts of electricity in built-up London
.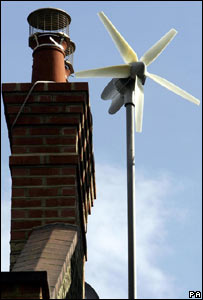 Unfortunately within a few days the
wind turbine
had to be removed again because builders had installed it in the wrong place. Planning permission was granted by
Kensington and Chelsea Borough Council
for Mr. Cameron's wind turbine to be installed on a chimney stack, but it was inadvertently fixed to a nearby wall as shown in the photograph above.
Green David Cameron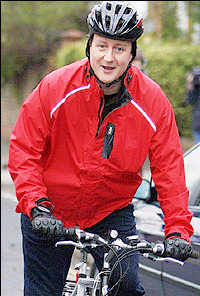 Mr. Cameron's green credentials have been somewhat dented by his decision to ride his bicyle to work while his chauffeur was photographed driving behind him
carrying his shoes and briefcase
! He was also pipped to the green politician post by Chancellor (and likely General Election opponent) Gordon Brown who recently installed
solar panels
on his Fife home.

Article Last Modified: 11:46, 4th Apr 2007
Comment on this Article
If you have any comments on this article, please email them to
neil@reuk.co.uk
.
---
Related Articles
Click one of the links below for further articles on the following
relevant topics
:
wind, solar, general, news
.