REED SWITCH
Buy now from the REUK Shop
Home
>
REUK Shop
>
Electronics and Electricity
First class
Postage and Packaging
on all orders is just
£2.45
in the UK.
To view your
shopping basket
click here.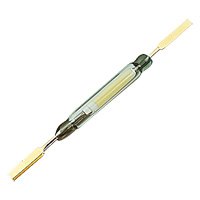 Additional Information
This is a low cost, long life glass-sealed
reed switch
with
rhodium contacts
. Tested to
one billion
operations it is perfect for the most demanding applications.
This
reed switch
will carry a current of up to 1.5 Amps at a voltage of up to 100 VDC (150 VAC rms). Breakdown voltage is 250 VDC. It is 20.3mm long.
Related Products and Articles
Reed Switches
Find out more about reed switches and their uses in RE




Reed Switch Wind Turbine RPM Meter
Find out how to use a reed switch to make a wind turbine RPM meter




1n4001 £0.06
1n4001 Standard Recovery Rectifier Diode - up to 1 Amp and 50 Volts.




Lm338t £1.99
LM338T Voltage Regulator Chip 3V-40V input 5A max. ave. current




Lm2940 £1.49
LM2940CT-12 low dropout 12 Volt 1 Amp voltage regulator




To220 Bolt On Heatsink £0.79
Bolt on heatsink for TO220 semiconductors such as the LM317T and LM338T voltage regulators. Nut and bolt provided free of charge




Lm317t £1.39
LM317T Voltage Regulator Chip 3V-40V input 1.5A max. ave. current




Crocodile Leads £2.99
5 red and 5 black insulated 500mm crododile leads