Today we worked on a project for a van owner. He has a Transit van and wanted to have the front fog lights and reversing lights turn on automatically when the alarm is activated (turned on or off) by his key fob, but only when it is dark outside. He wanted to be able to keep the lights on long enough to see when walking to and from the van in the winter.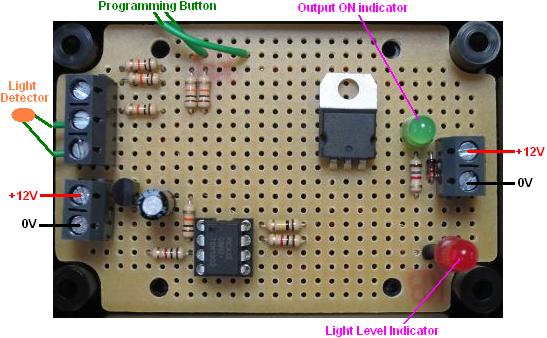 The device we came up with is pictured above. There is a light detector (light dependent resistor – LDR) on long leads which is to be positioned in the cab of the van. When the measured light level is below a user set threshold, the controller knows it is 'night'.
The screw in terminal at the top left of the above photograph is connected to a door servo feed wire. When the alarm is activated a high (+12V) signal is present for half a second. Our controller detects this, and if it is 'night' turns on the output (12V, less than 1 Amp) which is to be connected across the coil of a 40A automotive relay which switches the front fog and reversing lights. The output remains on for a user programmable duration – programmable in steps of 10 seconds, e.g. 10, 20, 30, 40..etc seconds.