Low Carbon Buildings Programme
Low Carbon Buildings Programme
Grants available for capital costs of microgeneration projects
home
>
carbon
|
energy efficiency
|
general
Printer Friendly Version

The
Low Carbon Buildings Programme
is an initiative from the DTI started on 1st April 2006 which replaces the
Clear Skies
programme. It is managed by the Energy Saving Trust. Cash grants are available to cover part of the capital outlay involved in any
micro-generation
project including
PV Solar
,
wind turbines
,
micro-hydro power
,
solar water heating
,
heat pumps
, and
bio-energy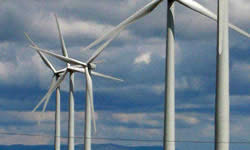 Initially the grants were made available only to householders and community associations. Since September 2006
grants
have also been available for commercial businesses, public buildings, and not for profit organisations.
Grants Available to Householders
Below is a summary of the grants available to householders in the UK for various
renewable energy
projects. All values are given exclusive of VAT:
PV Solar
- Up to £3000 per installed kW. Max of £15,000 and less than 50% of project total.
Wind turbines
or
Small Hydro
- Up to £1000 per installed kW. Max of £5000 and less than 30% of project total.
Solar water heating
- Up to £400 and less than 30% of value of project.
Heat pumps
- Up to £1200 and less than 30% of value of project.
Bio-energy
- Up to £600 for stoves and less than 20% of value of project. Up to £1500 for wood fuelled boiler systems and less than 30% of value of project.
Grants are available on a rolling first come first serve basis - click here to read about the
LCBP Grants Fiasco
in early 2007. Once accepted, the houseowner must pay the installer and then submit a claim document. Shortly afterwards the grant is mailed to the houseowner as a cheque. Grants are conditional upon a few home
energy efficiency
changes being made.
Loft insulation
and
cavity wall insulation
must be present (where applicable),
energy saving lightbulbs
must be installed, and any heating system must include a room thermostat and a timer.
Click here to visit the
Low Carbon Buildings Program
official website.

Article Last Modified: 14:28, 6th Mar 2007
Comment on this Article
If you have any comments on this article, please email them to
neil@reuk.co.uk
.
Can I suggest you update your website to clarify that the above programme is closed to new applicants, and that government grants for renewable energy projects are no longer available to home owners since the introduction of Feed-in Tariffs.

Jim
June 14th 2010
---
Related Articles
Click one of the links below for further articles on the following
relevant topics
:
carbon, energy efficiency, general
.