Nevada Solar One Switched On
Nevada Solar One Switched On
Nevada Solar One has gone online and is now providing solar power electricity to 15,000 US homes
home
>
solar
|
news
Printer Friendly Version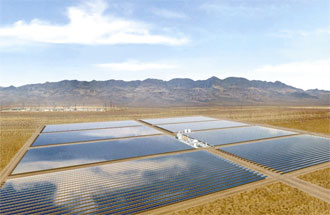 The 64MW
Nevada Solar One
concentrated solar power plant (CSP) has gone online in the USA (June 2007). With 400 acres of
solar concentrators
,
Nevada Solar One
has become the third biggest
solar thermal power plant
in the world.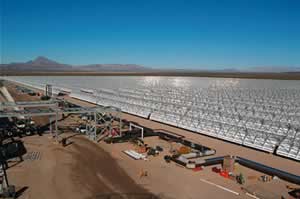 A total of 18,240
solar receivers
have been installed each with a mirrored
parabolic trough
which concentrates the sun's rays onto vacuum tubes holding a
heat transfer fluid
. The hot fluid (heated by the sun up to 300 degrees Celcius) from all of the
solar collectors
is pumped through a
heat exchanger
generating steam which turns an electricity generating turbine.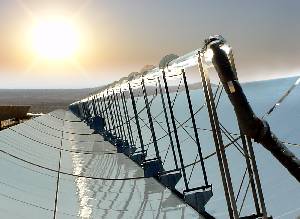 Concentrated Solar Power
Recently a commercial
Solar Power Tower
(PS10) went live which generates electricity using mirrors to focus the suns rays to the top of a tower where they heat water to generate steam to drive a turbine. Many other countries are looking at using
concentrated solar power
to generate electricity.
The electricity generated is typically cheaper than that which can be obtained using
PV Solar Panels
, and is therefore getting close to being competitive with that generated by oil and gas powered power stations but without the
carbon emissions
.
Film About Nevada Solar One
Click here to view a short film about
Nevada Solar one
on
YouTube
.
Make a Concentrated Solar Water Heater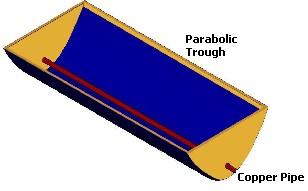 The technology used in
Nevada Solar One
is very simple and can be replicated in DIY
solar water heaters
. Click here to find out how to build your own
Concentrated Solar Water Heater
which can be used to
heat water
for use in the home.

Article Last Modified: 22:21, 24th Sep 2014
Comment on this Article
If you have any comments on this article, please email them to
neil@reuk.co.uk
.
---
Related Articles and Products
More from the
REUK.co.uk website
:
Click one of the links below for further articles on the following
relevant topics
:
solar, news
.