Build a Concentrated Solar Water Heater
Build A Concentrated Solar Water Heater
Plans for building a cheap advanced solar water heating system
heating
|
solar
|
water
&nbsp
Printer Friendly Version

On the REUK.co.uk site there are already instructions on making simple
solar water heaters
- for example a
basic solar water heater
which is ideal for camping and can be made in a few hours with cheap components. These home made solar water heaters are nowhere nearly as efficient as commercially available
evacuated tube solar water heating
but they are far cheaper.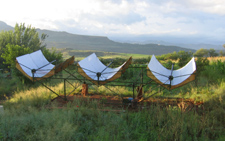 The next step up in DIY solar water heaters is
concentrated solar
water heating. Concentrated solar water heaters are more complicated to construct and more expensive, however they can be very efficient and great fun to build.
Concentrated Solar Water Heating
The key concept in
concentrated solar water heating
is the use of mirrors or other reflective surfaces to concentrate the suns rays hitting a large area onto a tube or container full of a fluid which is heated. The overall idea is very similar to that employed in a
solar oven
.
Making the Parabolic Solar Collector
The key component of a concentrated solar water heater is a
parabolic trough
which focusses all of the light hitting it onto a pipe containing oil.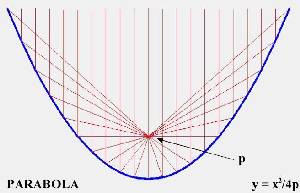 Obviously a large parabolic mirror would be extremely expensive, so some efficiency has to be sacrificed in order to bring costs down. The trough itself does not get very hot - primarily because it reflects away the suns rays rather than absorbing them - therefore it can be made simply of a thin layer of flexible material such as formica, MDF, or plywood. The inside of the trough must then be covered with a reflective material such as
aluminiumised mylar
(a reflective plastic sheet), or aluminium flashing.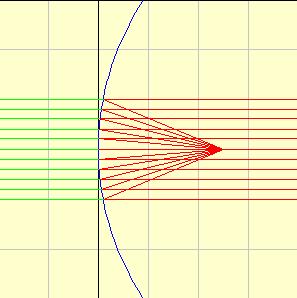 Bending the trough into an exact
parabolic
shape does not have to be very difficult. Basically two
end supports
need to be made which are parabolic and the reflective sheet can then be fitted to them. Below is an example parabola with a focal point suitable close to the base of the trough (
vertex
of the parabola). If you print this, or any other suitable parabola onto
2mm squared paper
(PDF), you then just have the simple task of scaling up the parabola to the required size.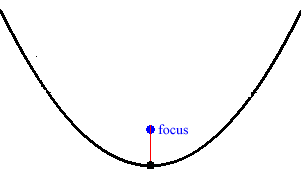 When printed, the parabola displayed above is exactly 80mm wide. Therefore if you want your trough to be 1 metre (1000mm) wide you need to scale up by a factor of 1000/80 = 12.5. If this parabola is printed on 2mm square paper, then a grid of squares 2 x 12.5 = 25mm wide needs to be drawn onto the wood/plastic which you intend to use for the end supports. Then the parabola can be copied freehand very easily and a
jigsaw
used to cut out the finished shapes. A hole the size of the pipe to be used should be drilled into the end supports at the focal point of the parabola.
It is well worth making a small model of your proposed
solar collector
using mirrored card (available online and from art and craft shops) before making the full-sized version.
NEW
See the results of
testing a concentrated solar water heater prototype cardboard parabolic trough
here.
Building a Concentrated Solar Water Heater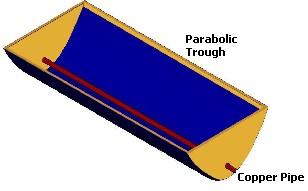 Every parabola has a focal point at which all light hitting the parabola is focussed. For our three dimensional
parabolic trough
we have a line of focal points along which we position the pipe containing the fluid to be heated. Common
motor oil
is perfect for this job since it is made to be heated to very high temperatures, it is not corrosive, and it is cheap and easy to find. Antifreeze is another option which is often used in
solar water heating
systems.
Standard
copper pipes
must be used rather than the newer push-fit plastic pipes. Plastic pipes will melt at around 90 degrees, far below the the temperature which will be reached by the pipe in the
solar collector
. Painting it with black paint will increase heat absorption.
The Finished Solar Water Heating System
The oil is in a
closed system
with a small
pump
used to move hot oil through a coil in the hot water tank. As the oil passes through the coil it transfers some of its heat to the water in the tank before returning to the solar collector to be reheated.
Twin coil hot water cylinders
(tanks) are available (click here to view our article on where to
buy a twin coil cylinder
), but it is sometimes possible though difficult to add a second coil to an existing standard cylinder.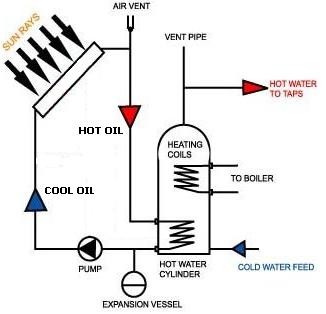 Article Last Modified: 07:54, 8th Apr 2010
Comment on this Article
If you have any comments on this article, please email them to
neil@reuk.co.uk
.
Thanks for the nice article of how to build a cost effective solar water heater. I may have an improvment to your system to convert into a steam generator. Having been a home brewer for many years I know that many syrups are cooked down in a vessel with a vacuum pump attached. I don't remember the exact temperature, but I believe that water boils at around 140 degrees F. If the water tank being heated was a boiler and had a vacuum pump attached then it could power a simple steam turbine engine. Keep up the good work!

Mark
March 20th 2008
---
Recommended Related Articles
People who read this article also enjoyed the following articles:
Evacuated Tube Solar Water Heating
Learn about the most efficient way to use the sun to heat water
Article Last Modified: 11:51, 21st Jul 2008
heating
|
solar
Test a Concentrated Solar Heater Design
Test results for a scaled down concentrated solar water heating parabolic trough
Article Last Modified: 10:14, 12th Apr 2007
heating
|
solar
|
water
Pumps for Solar Water Heating
Find a suitable water pump for a solar water heating system
Article Last Modified: 11:15, 20th Dec 2006
heating
|
solar
DIY Solar Water Heating Prototype
Follow the construction of a successful DIY solar water heating prototype
Article Last Modified: 15:16, 19th Aug 2008
solar
|
heating
|
water
Make a Simple Solar Air Heater
Heat a room or outhouse with a solar heater made from recycled aluminium cans
Article Last Modified: 14:55, 1st May 2007
solar
|
heating
Introduction to Solar Water Heating
Find out more about the benefits of solar water heating.
Article Last Modified: 12:00, 20th Dec 2006
heating
|
solar
Solar Water Heating Pump Controller
Build an electronic pump controller for a solar water heating system
Article Last Modified: 11:33, 9th Jul 2007
water
|
solar
|
electronics
STDC Temperature Difference Controller
Find out about the STDC solar water heating pump controller from Sorel
Article Last Modified: 13:15, 3rd Feb 2011
solar
|
water
|
heating
|
electronics
Simple Solar Water Heating
Make a simple solar water heater with easy to find materials
Article Last Modified: 13:17, 30th Jun 2008
heating
|
solar
|
water
Solar Storage Combi Boiler Pre Heater
Use solar power to pre-heat water and reduce electricity/gas consumption
Article Last Modified: 10:46, 26th Apr 2010
solar
|
heating
|
water
|
shopping