Renewable Energy Courses March 2007
Renewable Energy Courses March 2007
Residential renewable energy courses in Buckinghamshire, March 2007
home
>
education
|
general
|
news
Printer Friendly Version

The
Low-impact Living Initiative
are offering three residential weekend courses during the second half of March 2007 in Buckinghamshire.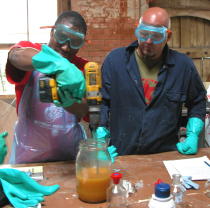 How to Make Biodiesel
Biodiesel
offers reductions in CO2 emissions and can be made from
waste vegetable oil
(WVO). During this weekend course you will learn all about this
carbon neutral
fuel and find out how to
make your own biodiesel
.
Self-Build Solar Hot Water
Solar water heating
is probably the cheapest (per Watt of power saved) renewable energy source. On this weekend course you will find out how to
make your own solar water heating system
. If you choose the
builder
option you will actually assemble the parts of your heating system during the course and be able to take it home with you.
Builders
will receive two pre-fabricated panels, the cylinder, pump, control set, fittings, insulation etc - truly a full
solar water heating system
. Alternatively you can just attend the course and take away the knowledge - worth considering if you would like to make your own solar heating panel.
Vegetable Oil Engine Conversion
If you have an indirect injection diesel car then you can convert it to run on environmentally friendly
Biodiesel
. During this weekend course you will learn how to
convert your car
to run on new or used
straight vegetable oil
(SVO). The car of one participant will be used as the demonstration vehicle and will be fully converted during the course.
Courses are great value priced from just £120 to £180 depending on your level of earnings and shared accommodation, meals, and bedding are all included.
To visit the
Low-impact Living Initiative
website to find out more about these and other courses, click here.

Article Last Modified: 10:14, 13th Jan 2007
Comment on this Article
If you have any comments on this article, please email them to
neil@reuk.co.uk
.
---
Related Articles
Click one of the links below for further articles on the following
relevant topics
:
education, general, news
.