10 AWG POWER CABLE
Buy now from the REUK Shop
Home
>
REUK Shop
>
Cables and Connectors
First class
Postage and Packaging
on all orders is just
£2.45
in the UK.
To view your
shopping basket
click here.
Additional Information
This is
10 AWG
automotive multi-stranded copper wire with thick insulation. 10 AWG corresponds to a diameter of 2.6mm and an area of 5.3 mm
2
. It is very flexible, durable, and weather proof.
This cable is ideally suited to be used in building a
bridge rectifier
with our
MB356 35 Amp 600 Volt bridge rectifiers
since it is rated at over 35 Amps.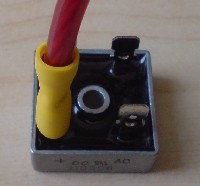 We recommend using this cable with our
insulated crimp connectors
for a perfect secure fit. Our
60 Amp terminal strip
also very useful if you are planning to make your own multi-phase bridge rectifier.
Related REUK.co.uk Articles
Find out how to make a bridge rectifier for your wind turbine