DOUBLE PIR RELAY TIMER
Buy now from the REUK Shop
Home
>
REUK Shop
>
Security
First class
Postage and Packaging
on all orders is just
£2.45
in the UK.
To view your
shopping basket
click here.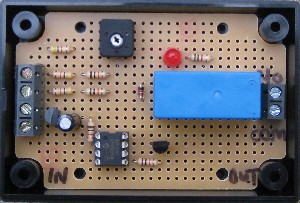 Additional Information
This circuit is designed for use with
TWO
12V DC
Honeywell IS-215T
passive infrared motion sensors (for sale in the
REUK Shop
). It is handbuilt in the UK using top quality electronic components and it has been designed to be very easy to use.
If you intend to use just one PIR sensor in your circuit, please click here to view details of our standard single PIR Relay Timer
.
Connection Diagram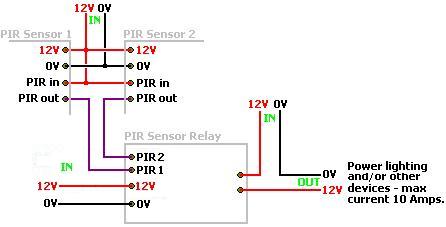 Above is a schematic diagram showing the connections which must be made when using this circuit. It look a lot more complicated than it really is!
When one or both of the
PIR sensors
in the circuit detect motion, the
relay
on the circuit board will be energised. This closes its internal switch and therefore allows current to flow to your low-voltage
security lighting
or other devices (<10 Amps total load). For a user-programmable interval of
5 to 75 seconds
after motion was last detected, current will continue to flow before being automatically shut off.
Setting the Time Delay (5-75 seconds)
For details on setting the
time delay
interval, click here to read the instructions for use of our standard single
PIR Relay Timer
.
Related REUK.co.uk Articles
Find out how to connect up two or more PIR sensors to one relay board or microcontroller input
Connecting more than one PIR sensors in a circuit
PIR sensor circuits ideal for use within renewable energy applications
Find out how to integrate PIR (passive infra red) sensors into renewable energy applications