PIR Sensor Circuits
PIR Sensor Circuits
Find out more about using PIR sensors within renewable energy applications
electronics
|
electric circuit
|
general
|
solar
&nbsp
Printer Friendly Version

In our article titled
PIR Sensors
we introduced
passive infrared
(PIR) sensors and summarised their uses. Of particular interest to us are
12 Volt DC
powered PIR sensors and associated circuits since these can be powered directly from a
12 Volt battery
which is in turn charged by
wind
,
solar
, or other
renewable energy
sources.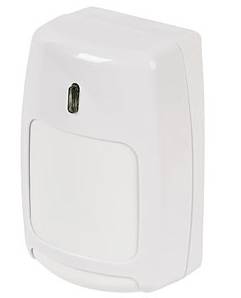 In this article we will look at the ways in which the excellent
Honeywell IS-215T
12 Volt DC PIR sensor (available in the
REUK Shop
) can be used by the renewable energy enthusiast with
lighting and security
systems.
There is not much by way of instructions for use literature for this (or any other) 12 Volt PIR sensor on the market. Therefore everything in this article has been
discovered
experimentally and solutions
invented
as and when necessary. During this process three transistors and two variable resistors were destroyed in clouds of smoke, one diode was melted, and smoke poured out of the PIR sensor unit for ten seconds without doing it any long term harm! We would be
very
interested to hear from anybody with more experience using these sensors and their recommendations. Please email
neil@reuk.co.uk
.
12 Volt PIR Sensor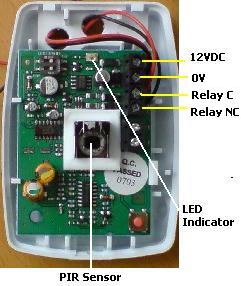 When the cover of the
PIR Sensor
unit is popped off it appears as shown above. A row of terminal strip at the top right of the circuit board is used for making the necessary connections - two connections to provide power to the unit (labelled + and -) and two for the
relay
(labelled C and NO).
When the PIR sensor detects the movement of a warm body the integrated
LED Indicator
lights up for a second or two. When the LED is not lit,
C
and
NC
are connected. When the LED
is
lit
C
and
NC
are
not
connected. Everything would be a lot easier for us if it worked the otherway around - i.e.
C
and
NC
only connected when motion is detected, however a simple
transistor inverter NOT gate
can be used to
invert
the output signal as shown below: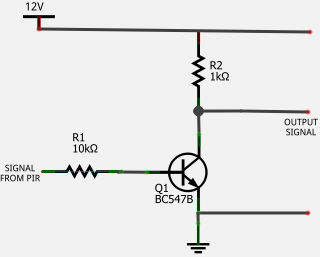 ...with the signal from the
PIR sensor
being generated as shown below: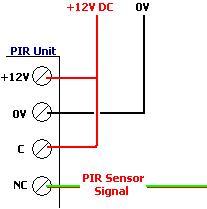 So, when the PIR sensor unit detects motion, the LED lights up, the PIR Sensor signal is 0V which is then
inverted
to an output signal of +12V (by our simple NOT gate). When no motion is detected, the LED is not lit, the PIR sensor signal is +12V which is then inverted to an output signal of 0V.
The output signal can then be connected across the coil of a
relay
, a 12 Volt
LED spotlight
, or a buzzer/alarm for example. However, the device (or circuit) connected to the output from the NOT gate circuit will only receive power for as long as the LED indicator is lit on the PIR sensor unit - a couple of seconds at most.
If a light needs to be switched on and left on for a fixed time interval, or if a video camera * is to record for say 30 seconds every time the PIR sensor unit is triggered, then we need to put together a simple
timer circuit
.
*
See our article on Solar Powered Wireless CCTV
.
NEW If you would like to connect more than one
PIR sensors
into the same circuit - for example, one sensor at the front of a property and one at the rear, click here to read our article:
Multiple PIR Sensor Circuits
.
PIR Sensor Timer Circuit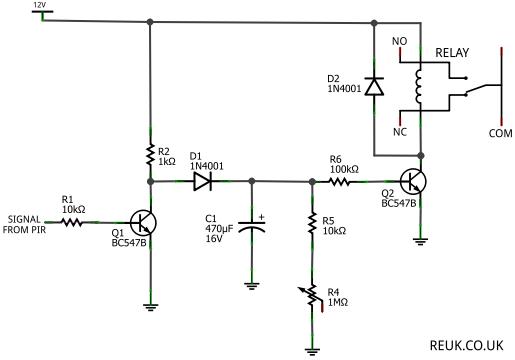 In our introductory article to
PIR Sensors
, the schematic circuit pictured above was provided. A few modifications have been made to make it work with our PIR sensor.
Changes to the circuit diagram are marked in red
.
When the 1M
variable resistor
is turned to 0, the relay stays on for 4-5 seconds. When the variable resistor is turned to around 1M, the relay stays on for around 55 seconds *. Therefore the timer can easily be adjusted to 10 seconds or 30 seconds etc as required by the application.
*
The exact timings depend particularly on the choice of relay and transistor used.
Switch a Relay with a Modified PIR Sensor Lamp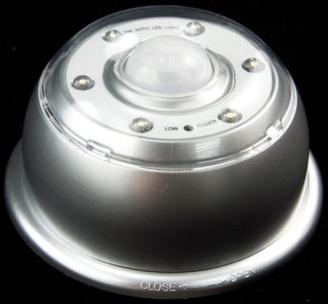 NEW - Click here to view our article
Hacked PIR Sensor
in which we show how an <£3 PIR triggered lamp (pictured above) can be converted so that it can switch a
relay
when motion is detected.
Buy a Complete PIR Relay Timer Circuit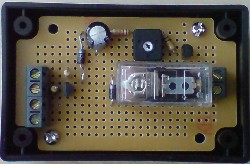 If you do not have the necessary tools, skills, time, or experience to put together a
relay timer
circuit for yourself, do not worry - we now sell the
PIR Relay Timer
as a complete unit in the
REUK Shop
designed and tested for use with our
PIR sensors
.

Article Last Modified: 12:42, 4th Feb 2012
Comment on this Article
If you have any comments on this article, please email them to
neil@reuk.co.uk
.
---
Recommended Related Articles
People who read this article also enjoyed the following articles:
PIR Sensors
Find out how to integrate PIR (passive infra red) sensors into renewable energy applications
Article Last Modified: 15:16, 18th Aug 2010
electronics
|
solar
|
general
Multiple PIR Sensor Circuits
Connecting more than one PIR sensors in a circuit
Article Last Modified: 17:00, 9th Mar 2009
electronics
|
electric circuit
|
general
Cheap Pyroelectric Infrared PIR Detector
Details of a very affordable and flexible PIR motion detector
Article Last Modified: 20:33, 16th Jan 2013
electronics
|
education
|
electric circuit
Example Transistor Circuit with LEDs
Put together a very simple circuit which uses LEDs to show how transistors work
Article Last Modified: 11:12, 23rd Apr 2007
electronics
|
education
Hacked PIR Sensor
Cannibalise a cheap PIR sensor to put it to other uses
Article Last Modified: 10:44, 4th Feb 2012
electronics
|
education
|
electric circuit
Convert External PIR to Low Voltage
Convert a mains powered outdoor PIR sensor to operate on low voltage
Article Last Modified: 15:31, 20th Feb 2012
electronics
|
education
|
electric circuit
|
shopping
Using Breadboard to Make Circuits
Find out how a breadboard is used to design prototype electronic circuits
Article Last Modified: 12:52, 11th Apr 2009
electronics
|
education
Build a Concentrated Solar Water Heater
Plans for building a cheap advanced solar water heating system
Article Last Modified: 07:54, 8th Apr 2010
heating
|
solar
|
water
What is a Zener Diode
Find out more about the Zener diode
Article Last Modified: 10:20, 10th Feb 2009
electric circuit
|
education
Connect Multiple PIR Sensors Together
Find out how to connect up two or more PIR sensors to one relay board or microcontroller input
Article Last Modified: 19:03, 20th Nov 2012
electronics
|
electric circuit
|
general