SOLAR SHED LIGHTING KIT
SOLAR SHED LIGHTING KIT
Home
>
REUK Shop
>
Solar Power
Complete solar powered shed/garage lighting kit. Waterproof solar panel with fitted NiMH batteries, and 4 Watt light tube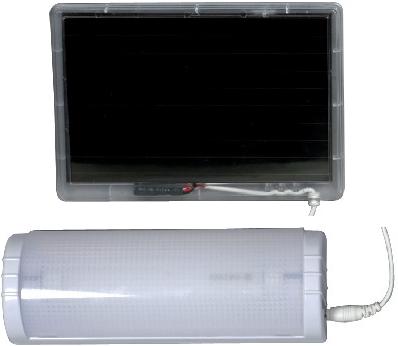 (1-5:
£11.99
each, 5+:
£11.49
each)
OUT OF STOCK
Unfortunately we are currently
out of stock
of this item.
We suggest you
buy SOLAR-SHED-LIGHTING-KIT here
instead.
(This alternative -
Solar Mate 0.5
linked to above is more expensive at
£29.95
but has a larger solar panel, much brighter light, and a
remote control
.)
Additional Information
If you have a
shed
,
garage
,
stables
, or any other building not connecting to mains power then this
Solar Shed Lighting Kit
is for you. It is also suitable for use on camping/caravanning trips, for hunting and fishing, and for any other outdoor space where light is required but there is no access to
mains power
.
This robust and simple to install
solar lighting kit
will provide up to
45 minutes
of bright light on a full 14 hour charge of
solar electricity
- perfect for occasional use.
Solar Kit Contents
This
solar shed lighting kit
comprises the following parts:
Waterproof photovoltaic (PV) solar panel (165mm wide, 115mm high, and just 10mm thick).
Three 600 mAh AA NiMH rechargeable batteries - not the toxic Cadmium filled NiCd batteries as are used in many solar lighting systems).
4 Watt 150mm light tube fitted in a 180mm x 62mm x 47mm enclosure.
1.5 metres of cable to connect the solar panel to the light.
LED charging indicator
Pull cord on/off switch enabling ease of use.
All necessary fixtures and fittings.
Enhancing this System
On a full charge, the included batteries will provide
45 minutes
of light. Replacing these 600mAh batteries with much higher capacity batteries (for example, our
2,700mAh AA rechargeables
) will increase this lighting time to over
3 hours
*.
*
Higher capacity batteries will naturally take longer to recharge.
Larger Solar Lighting Systems
If you require a larger
solar lighting kit
with more lights, more battery storage capacity, and/or more solar electricity generating capability, then read our article
Make Your Own Shed Lighting
to find out more.
Related Products and Articles