We have been making a bespoke range of controllers for people who would like to use rainwater for their toilet flushes for around 6-7 years now. Here is an example of one of our early Rainwater Toilet Flush System Controllers with details of how such a system works.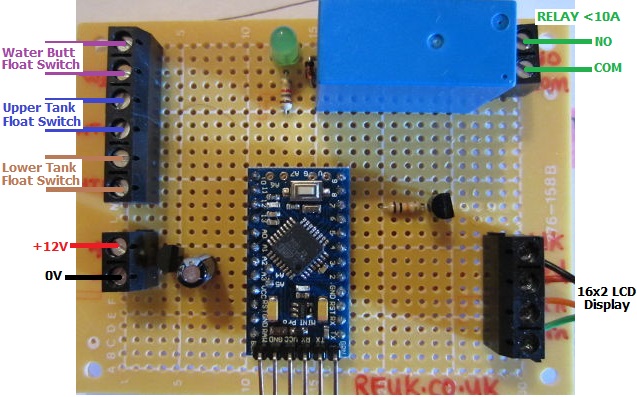 Pictured above is one of our more advanced systems which includes an LCD display to keep the user up to date with the status of the system and water levels in the water butt and header tank (which gravity feeds to the toilet cisterns in the home).
In this particular case, if the two float switches in the header tank are not in water, the tank is empty, and so the pump turns on to fill the tank. If there is sufficient water in the water butt to fill the tank, then the pump will stop when the tank is detected to be full. If however the water butt is empty (or becomes empty during pumping), then then controller sleeps for four hours to allow a rain shower to collect a good amount of rainwater (if it rains in the meantime) so that pumping later will fill the tank.

The display constantly shows the status of the water butt (WB) – either OK or LOW (empty), and the status of the header tank (HT) – either EMPTY, OK, or FULL. The bottom line of the display shows whether the pump is running, the controller is sleeping, or everything is just ticking along as it should.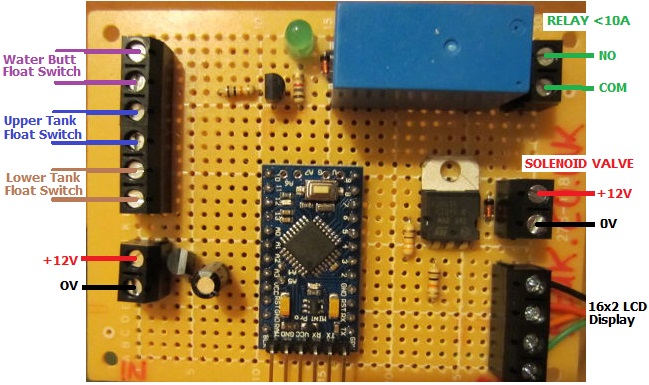 The controller pictured above is a little more advanced. If the header tank is detected to be empty, then the pump will start as normal unless the water butt is also empty. If during pumping, the water butt becomes empty (or if it is already empty when the header tank is detected to be empty), a solenoid valve will close which will allow the flow of water up the rising main to enter the header tank to ensure that the toilets can always be flushed without any manual intervention.

The display for this particular controller also shows the user when the solenoid valve is open so they know that you are using mains water due to a lack of stored rainwater in the water butt. There is no need for a four hour delay with this unit since every time the header tank empties and the water butt is either empty or becomes empty during pumping, the mains water supply will top up the header tank.
This controller is based around an Arduino Pro Mini microcontroller development board and uses standard horizontal float switches in the water butt and header tank to detect water levels.
If you need a rainwater toilet pump controller of any type, please email neil@reuk.co.uk with details of your specific requirements.