REUK Shop > Water Conservation
Liquid sensor switch with two gold plated metal probes.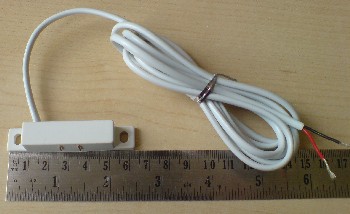 (1-5:
£5.99
each, 5+:
£5.79
each)
OUT OF STOCK
Additional Information
This Liquid Sensor is fitted with two gold-plated probes. When both probes come into contact with liquid (i.e. when the sensor is submerged) an internal reed switch closes automatically permitting electricity to flow through the sensor to turn on/off a pump, light, alarm, or relay.
When the sensor is outside liquid the switch is OFF and electricity cannot flow through it. See image below: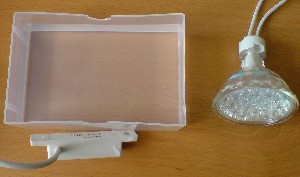 However, when the sensor is submerged in liquid, the switch turns ON and electricity flows through. See image below: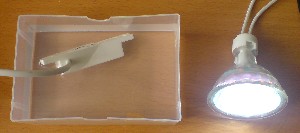 The sensor is made of plastic and can be used in any non-corrosive liquids with the exception of thick oils. It is fitted with a twin-core insulated 1.8 metre long cable – one core with red insulation, and the other black. The liquid sensor should be connected as shown below *: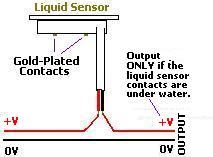 * Note that if the sensor is wired the other way around (reverse polarity), the internal switch will be ON whether the sensor is wet or not.
Technical Specifications
This liquid sensor can handle a switching current of up to 0.5 Amps, the maximum switching voltage is 100 VDC, and the maximum switching capacity is 10 Watts. Where the circuit or appliance to be switched on exceeds any of these limits, a suitable relay or transistor should be used.
Alternative Products
Our Float Switch is an alternative to this liquid sensor.