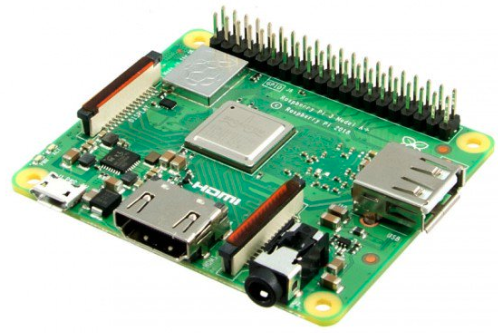 Today (November 15th 2018) the new Raspberry Pi Model 3 A+ was released, four years after the release of the original Raspberry Pi Model A+.
The new A+ is a physically smaller (65mm × 56.5mm compared to 85.6mm × 56.5mm) and cheaper (US$25 compared to US$35) version of the Raspberry Pi Model 3 B+ with slightly reduced features.
The A+ has just one USB 2.0, the B+ has four. The A+ has half the LPDDR2 RAM of the B+ with 512MB compared to 1GB.  And, the A+ has no ethernet port whereas the B+ has gigabit ethernet connectivity.
The Raspberry Pi Model 3 A+ and B+ share the same 1.4GHz quad-core Arm Cortex A53 processor, and the same WiFi and Bluetooth connectivity.