REUK Shop > Water Conservation
Rainwater diverter kit for standard plastic 65mm square and 68mm round downpipes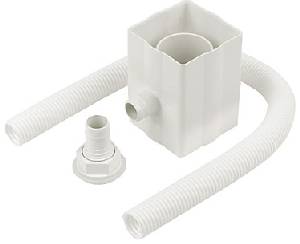 (1-5:
£8.99
each, 5+:
£8.49
each)
OUT OF STOCK  
Unfortunately we are currently
out of stock
of this item.
We suggest you
buy RAINWATER-DIVERTER-KIT here
instead.
(From under 
£7.00
and available in white or black)
Additional Information
This rainwater diverter is available in both white and black. Most people request white, therefore by default a white rainwater diverter will be dispatched. If you required a black rainwater diverter please email neil@reuk.co.uk and we will send you an invoice by email.