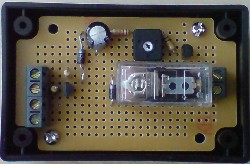 Additional Information
This circuit is designed for use with the 12V DC Honeywell IS-215T passive infrared motion sensor which we sell in the REUK Shop. It is handbuilt in the UK using top quality electronic components and it has been designed to be very easy to use. It is also compatible with the newer Honeywell IS312 PIR sensor as well as many other PIR sensors.
When the PIR sensor detects motion it sends out a signal which triggers this circuit. The length of time the relay stays closed after the PIR sensor signal has finished is manually-adjustable from 5 seconds to around 75 seconds.
Use a small screwdriver or the point of a very sharp knife to rotate the timer adjustment:
turn clockwise to reduce the time from 75 to 5 seconds.
turn anti-clockwise to increase the time from 5 to 75 seconds.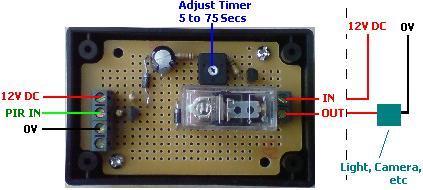 The connection labelled PIR IN above originates as the PIR Sensor Signal shown in the diagram below of the connections within the (IS-215T) PIR sensor unit: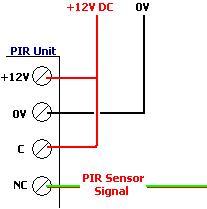 Full circuit diagrams for this device are available in our article PIR Sensor Circuits if you would prefer to solder your own together. We are happy to supply the components required – price on application.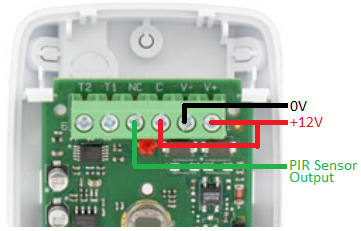 NEW – if you are using a Honeywell IS312 PIR sensor (the updated Honeywell IS-215T) the connections are shown above.
We also have an alternative PIR timer product: 12V Programmable PIR Timer which has a microcontroller timer for greater accuracy and ease of programming, and is of smaller dimensions. It has a 3A rated 12VDC output for direct connection to lighting or sirens etc instead of an on board relay.
If you are planning a circuit containing two PIR sensors (for example one at the front and one at the rear of a property) or more, then please read our article Multiple PIR Sensor Circuits. We also have a Double PIR Relay Timer available for sale.
Further Information
If you have any questions about the operation of this circuit and our 12 Volt DC PIR Sensors please contact neil@reuk.co.uk directly by email.