Use as a thermostat, or as a timer with built in relay for 12 Volt DC applications (5 Amp)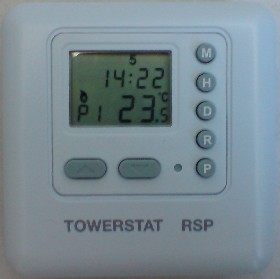 (1-5:
£19.99
each, 5+:
£19.49
each)
OUT OF STOCK  
Additional Information
NEW 24.03.09
We are now OUT OF STOCK of the Towerstat RSP programmable room thermostat pictured above, and we will not be restocking it. We will instead be selling the ECO ET2 which offers the same features, plus the ability to programme two on/off cycles per day.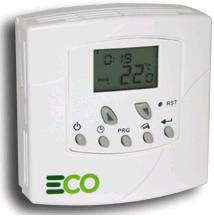 The user instructions for the ECO ET2 (pictured above) are available here: ECO ET2 thermostat user instructions (PDF).
If you would like to purchase one of these room thermostats for £19.99 as a standard programmable thermostat, £21.99 converted as a battery powered timer (ambient temperature insensitive), or £25.99 as a 12V powered programmable timer (with voltage regulator), please contact neil@reuk.co.uk with details of your exact requirements.
---
Towerstat RSP
This is a high quality battery-powered* programmable timer thermostat which has many uses. First and foremost it is an excellent programmable thermostat with a built-in 5 Amp rated relay. In addition it can be used as a simple and affordable programmable timer for use with low voltage battery powered applications.
* NEW To find out how to modify this thermostat so that it can be powered from a 12 Volt source (e.g. a PV solar-charged 12V battery bank) click here to read our new article RE Powered Timer Relay Switch.
Pictured below is the connection diagram for a simple automatic lighting system (used for example in, poultry lighting).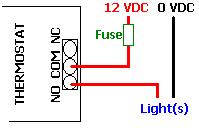 Product Features
Temperature range: 5 to 35 degrees Celcius.
Temperation display range: 0 to 40 degrees Celcius.
8 user programmable settings: 4 for weekdays, 2 for Saturday, and 2 for Sunday.
Surface mountable (with necessary fittings provided).
Output on delay: 20 seconds.
Dimensions: just 74 x 28 x 74mm and weighs in at just 94g without batteries.
The thermostat is powered by 2 x AAA batteries (not provided).
More Information
The user manual is available online by clicking here (20 page PDF).
Programming the Thermostat for Poultry Lighting
First of all, if you intend to use this thermostat as a timer switch outdoors, the unit must either by well insulated (to prevent it falling below 5 degrees Celcius on cold nights) or modified to override the internal thermometer.
The following programme settings should be used (following the instructions in the user manual) to have the lights switched on from 4:00am until 7:00pm every day:
| | | |
| --- | --- | --- |
| Prog. | Time | Temp. |
| P1 | 04:00 | 35 |
| P2 | 19:00 | 5 |
| P3 | –:– | — |
| P4 | –:– | — |
| P5 | 04:00 | 35 |
| P6 | 19:00 | 5 |
| P7 | 04:00 | 35 |
| P8 | 19:00 | 5 |
If you would like to have the lights turned off automatically when the natural daylight is bright enough (in order to save electricity), consider purchasing one of our adjustable Light/Dark Sensor Circuits.