We were recently commissioned to design and build a thermostatic controller for a large tank of water (5m3) which has to be maintained within a narrow temperature window for the testing of ultra-sonic scanning equipment.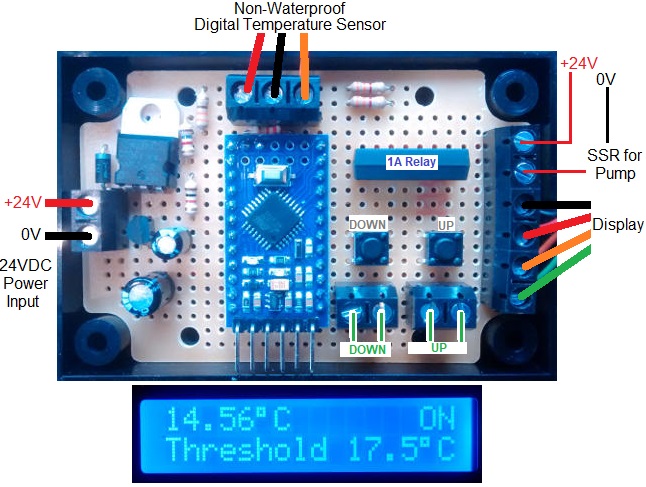 Pictured above is the device we came up with. The user can set a target temperature threshold of 15 and 30 °C in 0.5°C steps using the UP and DOWN buttons. If the temperature of the water falls to 0.25°C or more below the threshold, then a relay closes which turns on a heater. When the temperature of the water has reached 0.25°C or more above the threshold, the relay opens again and the heater turns off. This keeps the water within +/- 0.25°C of the target temperature.
Since the temperature of such a large volume of water is slow to change, the update time of the thermometer in this device does not need to be very fast. We could therefore set the resolution of the DS18B20 temperature sensor to 12-bit (0.0625°C) by accepting an almost 0.75 seconds temperature reading update time.

The display shows the current measured temperature (top left), heater status (top right), and the temperature threshold which has been set by the user.
If you need any kind of thermostatic controller, please email neil@reuk.co.uk with details of your requirements.