Waterproof 12 Volt 15 Watt monocrystalline solar panel with aluminimum frame with 5 metre long fitted leads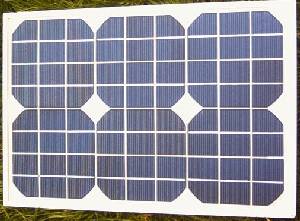 (1-5:
£82.99
each, 5+:
£81.99
each)
  OUT OF STOCK  
Additional Information
This is a high quality monocrystalline photovoltaic solar panel rated for 12 Volt charging with a peak power output of 15 Watts. This corresponds to a current of up to 1.5 Amps.
The solar panel is fitted with an aluminium frame and is pre-drilled with mounting holes for ease of installation. Total weight is 1.5Kg and the dimensions are 420 x 285 x 18mm.
5 metre long bare-ended cables are pre-fitted, and this panel can put up to 9Ah of electricity per day into your 12 Volt battery (not included). A protective diode is installed to prevent charge escaping via the solar panel at night time.
We recommend the excellent SunGuard Solar Controller with this solar panel, and our Battery Top Post Terminals