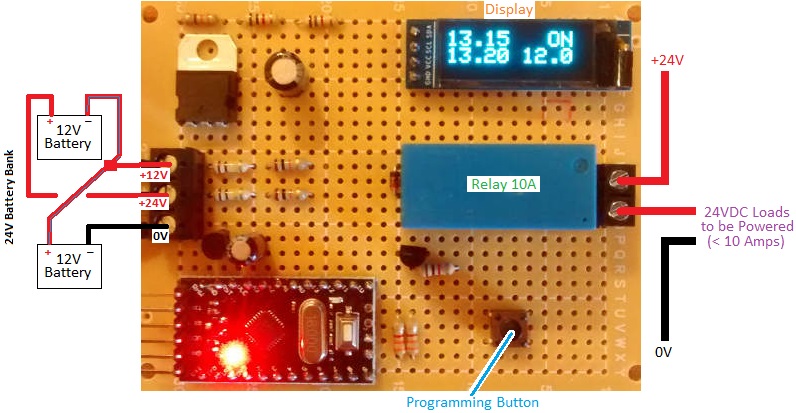 Pictured above is a low voltage disconnect (LVD) we recently made for use with a 24V battery bank comprising two 12V batteries. These two batteries do not equalise well (i.e. they do not hold the exact same charge or show the same voltage), and so this low voltage disconnect has to look at both batteries independently and take actions based upon the measurements of the weakest battery.
This device is based around our OLED display 12V LVD with some major modifications. The batteries are connected in series to make a 24V bank. The device measures the voltage of the whole battery bank and also measures the voltage of the first 12V battery. The second 12V battery voltage is then calculated by subtracting the first 12V battery voltage from the 24V battery bank voltage.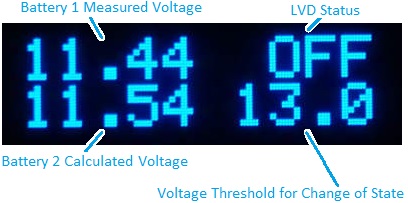 The OLED display on the low voltage disconnect shows the two battery voltages which make up the bank, the status of the LVD, and the voltage threshold (user programmable) at which the status of the LVD will next change (turn off the output if it is on, turn it on if it is off) depending on the charge level of the two batteries in the bank.
If the voltage of either battery in the battery bank falls below the low voltage threshold set by the user, the output will be turned off cutting the power to any devices being powered by the battery bank. When both of the batteries in the bank then reach a voltage in excess of the high voltage threshold set by the user, the output is restored reconnecting power to the devices powered by the battery bank.
If you need any kind of low voltage disconnect, please take a look at our range of LVD products, and email neil@reuk.co.uk if you have any special requirements.