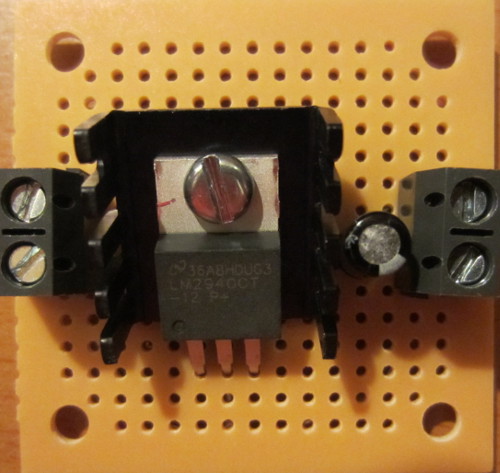 Additional Information
This is our 12.0V voltage regulator circuit built around the LM2940 Low Dropout Regulator. It is designed to be used in situations where a supply voltage in excess of 12 Volts could damage a device, but the voltage source (typically a lead acid battery) supplies in excess of 12V. This new design has dimensions of just 45 x 45 x 20mm.
The regulator will output up to 0.8 Amps of 12.0 Volts DC from a maximum input voltage of 16 Volts with no need for additional heatsinking.
This regulator circuit is perfect for LED lighting applications using 12V LED Spotlights. These bulbs have a working voltage of 10.5-13.5 Volts, so if they are directly connected to a 12V-rated lead acid battery, the bulbs could easily be damaged by the 13.5V+ voltage of a fully charged or under-charge battery.
If a switch is to be used – e.g. for lighting – it should be connected into the circuit before the regulator so that the regulator does not draw any power from the battery except for when needed. Similarly if using a fuse, it should be fitted into the positive line connecting the battery to the regulator and located close to the battery. (or scroll down for details of our alternative 12V regulators with fuse and/or switch terminals on the board.)
Current Limitations
The 0.8 Amp current limit on this regulator circuit corresponds to powering up to eight 1 Watt LED spotlight bulbs. The onboard heatsinking keeps the regulator cool under load with up to 4 to 5 of our* 1.5W spotlight bulbs when powered from a 12.5-16V (typical lead acid battery) source.
* Other bulbs may use more power and therefore current than labelled. If you have bulbs from another supplier we recommend you test their power consumption.
The LM2940 regulator used on this board has an absolute 1 Amp limit. If you intend to use this regulator up to this limit OR to regulate from a voltage of 16+ Volts, you must use a larger heatsink or fan. Contact us directly (email neil@reuk.co.uk) before purchase with details of your exact requirements so that we can confirm suitability.
Using the 12 Volt Regulator
Connecting the 12V regulator into a circuit is very easy, as shown in the images below: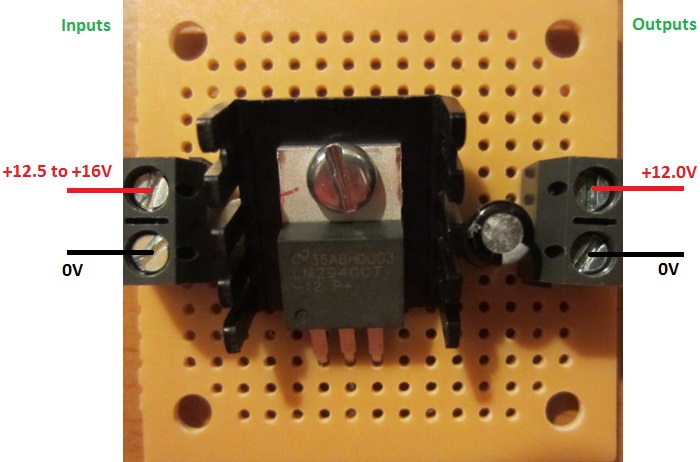 * Should the input voltage falls below 12.5 Volts, the low dropout regulator will 'drop' a maximum of 0.5 Volts – for example, an input of 12.3V will generate an output from 11.8V-12.0V depending on the current used by the load – 12.0V if the current is small, and 11.8V if the full 0.8 Amp maximum current is being used.
12V Regulator with Fitted Fuse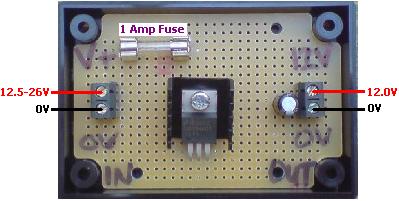 Pictured above is a 12 Volt regulator with a 1 Amp fuse mounted securely to the circuit board. It makes connecting a system a lot easier and tidier than using a standard in-line fuse holder and fuse. Click here for more information and/or to purchase this 12 Volt Regulator with Fuse now with two spare 1A fuses for £6.79.
12 Volt Regulator with Fuse and Switch Terminals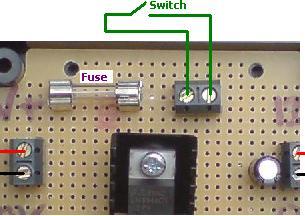 Similarly we can also incorporate screw-in terminals for a switch in order that the correct BATTERY to FUSE to SWITCH to LOAD connections can be made tidily on one board. This board is priced at £7.29 including two spare 1A rated fuses. Click here now to find out more and/or to purchase this 12 Volt Regulator with Fuse and Switch Terminals.
Mini 12 Volt Regulator with Fuse and Switch Terminals
We also now sell a miniaturised version of the this regulator which is just 45mm x 45mm x 20mm in size. It is priced at £6.99. Click here now to find out more and/or to purchase this MINI 12V Regulator with Fuse and Switch Terminals from the REUK Shop.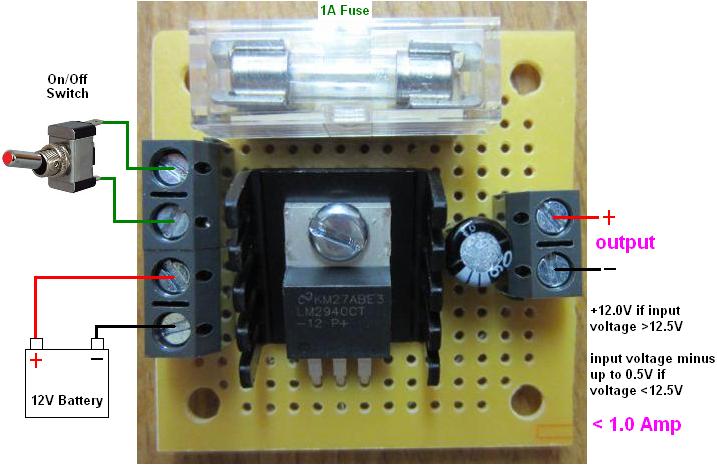 12 Volt Regulator with Built in Low Voltage Disconnect
Another popular 12V regulator is our 12 Volt Regulator with Low Voltage Disconnect. This combines our 12V regulator with fuse and switch terminals with a battery protecting low voltage disconnect which turns off the output when the battery voltage gets low.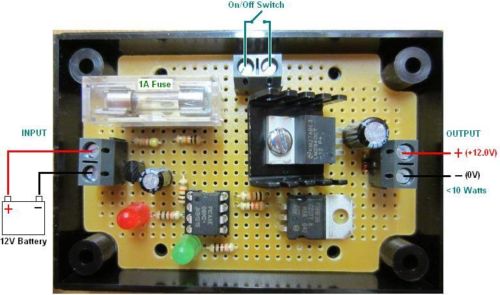 Epoxy Sealed Mini 12 Volt Regulator
Pictured below is our latest 12 Volt low dropout regulator. This is designed for use where space is at a premium. The three types of standard regulators described above come in at around 85 x 60 x 30mm which is a bit large for some applications.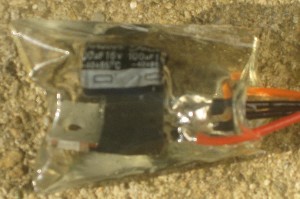 This new regulator is around 30 x 25 x 15mm in size, and is entirely housed in super-hard and durable epoxy resin. This electrically insulates the regulator and associated components and so no casing is required. The regulator is certainly very weather and splashproof, and should also be waterproof (not that it is the sort of thing you would use underwater).
This regulator is only really suitable for loads of around 0.5-0-6 Amps or lower and input voltages of <16V since no heatsink is used, and epoxy does not dissipate heat as well as metal would. Four leads are pre-attached: V+ and 0V input, and 12.0V and 0V output. Email neil@reuk.co.uk if you are interested in ordering this type of regulator.