Fuel Cells
Fuel Cells
Introduction to Fuel Cell technology and its benefits and disadvantages
transport
|
electronics
&nbsp
Printer Friendly Version

A
fuel cell
is a device which converts hydrogen gas and oxygen into water via a process which
generates electricity
. This electricity can then be used to power a car more efficiently than existing battery technology, or to power other motors, lighting, and so on - in fact anything that can use direct current (DC) voltage. Most fuel cells produce 0.7-1.2 volts of electricity, and so a
stack
of fuel cells must always be assembled to increase the voltage up to a more useful level.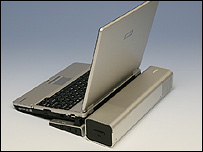 The most promising
fuel cell
technology for powering vehicles are
Proton Exchange Membrane Fuel Cells
or (PEMFC). The proton exchange membrane separates the cathode (negative) from the anode (positive) only conducting positvely charged ions, and blocking electrons. A rough platinum coated catalyst faces the proton exchange membrane. Pressurised hydrogren gas is pumped into the anode side of the fuel cell where it passes through the catalyst. The hydrogen molecules split into two positive hydrogen ions and two electrons. At the same time oxygen gas (within air) is pumped through the catalyst where it two splits into two positive ions. These are very attractive to the hydrogen ions which then pass through the proton exchange membrane and unite with oxygen ions to form water - one water molecule from two hydrogen ions and one oxygen ion. The electons from the hydrogen now go out through the anode to an external circuit (e.g. the motor of an electric car) doing work and then returning to the cathode of the fuel cell. This reaction generates around 0.7 volts of electricity.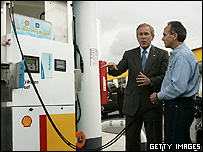 Typically the hydrogen is obtained from a hydrogen filling station in liquid form, and the oxygen is obtained from the air which is pumped into the cathode. Sadly the hydrogen is usually formed by converting a hydrocarbon (fossil) fuel or alcohol. Hydrogen is very difficult to distribute and store, and it is also difficult to carry it in a car. Therefore an alternative is to fill a tank in the car with methanol and then use a so called
reformer
to convert it into hydrogen (plus waste products) as and when it is required. Only around 30% of the energy contained by the methanol is actually used to power the vehicle, and there are mechanical losses too resulting in an overall efficiency of a methanol powered fuel cell car to only 25%.
The overall reaction for a
direct methanol fuel cell
is:
2 CH3OH + 3 O2 --> 2 CO2 + 4 H2O
As you can see, this reaction releases water (good) and waste heat, and carbon dioxide (bad). However as methanol is a great hydrogen carrier, it is seen as the best hope for fuel cell powered vehicles. Also, miniature versions of methanol fuel cells are now being introduced to power mobile phones, laptops, and other battery hungry electronic devices.

Article Last Modified: 20:52, 17th Dec 2012
Comment on this Article
If you have any comments on this article, please email them to
neil@reuk.co.uk
.
---
Recommended Related Articles
People who read this article also enjoyed the following articles:
Freeloader Pro
Introduction to the new Freeloader Pro - the ultimate professional solar charger
Article Last Modified: 14:35, 16th Sep 2011
solar
|
shopping
|
general
Hacked PIR Sensor
Cannibalise a cheap PIR sensor to put it to other uses
Article Last Modified: 10:44, 4th Feb 2012
electronics
|
education
|
electric circuit
Switch from Inverter to Mains Automatically
Power a circuit directly from a power inverter, but with automatic mains power back up.
Article Last Modified: 11:16, 28th Nov 2012
electric circuit
|
storage
|
general
Make a Mini Wind Turbine Battery Charger
Convert a PC fan into a wind turbine battery charger
Article Last Modified: 20:19, 7th Aug 2012
wind
|
electronics
|
education
LED Dimmer Circuit
Find out how to put together a simple but efficient PWM dimmer circuit for LEDs
Article Last Modified: 09:42, 16th Mar 2011
lighting
|
electronics
|
electric circuit
PVC Wind Turbine Blades
Learn how to make your own PVC wind turbine blades
Article Last Modified: 15:16, 19th Aug 2008
wind
Freeloader Solar Charger
Find out more about the Freeloader solar charger for mobile phones, iPods, PDAs, and GPS
Article Last Modified: 12:01, 25th Jun 2009
solar
|
shopping
|
general
DIY 2kW Wind Turbine
Read about a home built 2kW wind turbine constructed from scrap
Article Last Modified: 08:46, 4th Oct 2007
wind
|
recycling
Cheap Pyroelectric Infrared PIR Detector
Details of a very affordable and flexible PIR motion detector
Article Last Modified: 20:33, 16th Jan 2013
electronics
|
education
|
electric circuit
Solar Declination
What is solar declination, how to calculate it, and a table of solar declination data
Article Last Modified: 10:24, 19th Dec 2012
solar
|
education