Grid Tie Inverters
Grid Tie Inverters
Find out more about Grid Tie Inverters - connect your RE system to the grid
general
|
wind
|
solar
|
electronics
&nbsp
Printer Friendly Version

For a brief summary of
power inverters
and their use in a
renewable energy system
please read our
Introduction to Inverters
.
If you have a small scale
renewable energy
set up - for example, just a
micro wind turbine
or a few
PV solar panels
, then you will almost certainly be using
battery storage
rather than tying into the National Grid. In those cases there are very many suitable inverters ranging from just £10 to many £hundreds depending on your exact needs. If however you wish to connect your
wind turbines
and/or
solar panels
to the National Grid, you will need a
Grid-tie Inverter
- particularly if you intend to sell (
export
) electricity back to the utility company.
Grid-Tie Inverters (plug in type)
Not all
grid-tie inverters
operate in the same way. In general a grid tie inverter needs to be wired directly into your home electric circuit by a qualified electrician. However a simpler alternative has been on the rise recently - an inverter which you simply plug into a home ring main using a standard three pin plug. This is exactly the type of
power inverter
provided with the no longer available
Windsave 1000
wind turbine
.
If for example you have a laptop computer and a desk lamp drawing around 150 Watts between them, and a solar panel generaing 200 Watts which is plugged into the same ring main using a
plug-in inverter
, then the laptop and lamp would be powered entirely by your solar panel and any excess power would be lost to the National Grid. If you only had a 100 Watt
solar panel
, then its power would be supplemented by the National Grid (and you would have to pay for the extra electricity used).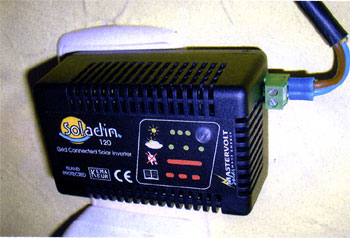 If you have a small
DIY renewable energy
set up, then a plug in inverter such as the
Mastervolt Soladin 120
pictured above is a good starting point. This tiny plug-in inverter will accept up to 2.8A and 50V DC with a nominal power output of up to 90 Watts. It converts the DC into 230 VAC at 90+% efficiency. (12V
solar panels
would have to be put in series to generate 24 Volts since the voltage range for this inverter starts at 24 VDC.) It is priced at around £100.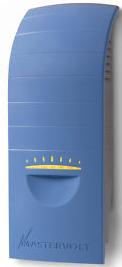 For larger solar systems, the excellent
Soladin 600
- the world's smallest
mini string inverter
pictured above is a good option. Taking its input from 160 to 700 Watts of solar PV at a voltage of 40-125 VDC, the Soladin 600 will output up to 525 Watts of 50 Hz mains voltage electricity. This inverter is rated at over 91% efficiency and it is
MCS
,
FIT
, and G83/1 approved for plug and play UK use.
Click here for more information and/or to purchase the
Soladin 600 Grid Tie Inverter
for from £300. It is supplied with a mounting bracket and a
5 year warranty
. Click here to download the
Soladin 600 Instruction Manual
(PDF).
NEW - Cheap Chinese designed and built plug in grid tie inverters are now available here at well under £100 for a >300 Watt unit:
grid tie power inverter
.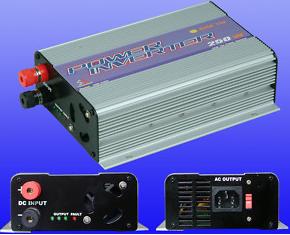 Large Grid-Tie Inverters
Large grid-tie inverters are generally one of the most expensive components of a
renewable energy generation
system. Typically prices start from at least £500 going up to £thousands, but prices are falling as the technology improves and PV installations become more common place.
Manufacturers of quality
grid-tie inverters
include: ExelTech, Fronius, Magnum Energy, Morningstar, Outback, SMA, Solectria, and Xantrex.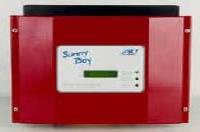 Probably the most popular are the
Sunny Boy
series of
grid connecting inverters
from SMA - a German company specialising in inverters for
solar
generating applications. All Sunny Boy inverters comply with
UK G83 grid connection regulations
, have efficiencies of over 93%, and have an estimated lifetime of over 20 years.
The
SB700
is available in the UK for around £800 offering up to 700 Watts of power. Much larger applications could be served with an SB3000 or SB6000 inverter for powers of up to 3000 (£1500) and 6000 Watts (£2500) respectively. And of course there are
Sunny Boy
's with many other power outputs within that range.
Click here for best prices on the full range of
Sunny Boy Inverters
in the UK.

Article Last Modified: 13:37, 9th Mar 2011
Comment on this Article
If you have any comments on this article, please email them to
neil@reuk.co.uk
.
Andrew has noted the danger of using a standard IEC pinned connector for power out. However, using the chassis-mounting socket connector doesn't actually help either, as the lead plugged into this will end in a BS1363 plug, if it is for plug-and-play use, and this will still give exposed live terminals when not plugged in.

Unless it can be proven (using an oscilloscope and appropriate caution, not your fingers!), that the "island protection" feature of the inverter reacts fast enough to removal of the plug to protect the user, this would cause a hazard to manifest. Irrespective of infringement of regulations (which I do not condone), a permanent connection from the inverter to a spur box would then appear to me to be the minimum necessary to avoid a significant risk of electric shock.

Note, however, that it is not the same as exposed terminals on a mains outlet. In the case of these inverters, the user would have to touch two conductors simultaneously and current will flow between them, as there (should be) no path to earth because the inverter is isolated. I say "should be" because most small inverters will not themselves be isolated, being switch mode devices, so the isolation relies on the input side not being connected to ground.

Using a chassis connector on the inverter would be more dangerous, as unplugging the mating connector with the BS1363 plug in the socket would result in exposed mains at the IEC pins, with only the consumer unit RCD to protect you - not nice!

Mark
4th March 2012


I've had one (it's the same as your picture, but branded differently) connected to a solar panel for a year or so.
I don't know much about electronics, but these are my thoughts
- It has a rather optimistic hand printed 'ROHS' and 'CE' approval sticker on it
- It came with a moulded 3 pin plug - with no fuse
- According to my Killawatt it takes no power whilst not generating
- It produces 0 Watts until the solar panel is producing > 14V
- On a sunny day I see readings of about 20 Watts from my 30 Watt solar panel
With respect to a comment Andrew regarding the pins being live, I don't think they are.

The manual made mention of 'island' mode, in pseudo English, indicating that unless an AC phase is detected on the output, the input stage stays disconnected.

In short, it has all the hallmarks of a good design, ripped off and churned out by the thousand on a production line in east Asia.

I think, for £60 it's great.

Gary
Feb 24th 2012


There seem to be numerous reasons why plug and play [inverters] are not allowed in the UK, not least- BS7671:2008 (amd 1, 2011) 551.7.2 (ii) A generating set shall not be connected to a final circuit by means of a plug and socket. If you have any references which refer to permission for plug and play please let me know.
The Windsave system to which you refer was originally advertised as plug and play, but as I understand it they did change this connection to a dedicated fused connection unit on a spur or ring final circuit. However more recent regulations require the use of an appropriate RCD for any such connection, as well as an assessment of the suitability of the existing circuit in regard of disconnection times etc, which puts connection outside the scope of consumer plug and play.

Matt, 19th December 2011


It is my belief that these [Chinese grid tie inverters] are, not to put to fine a point on it, really dangerous. You will note from the picture [3rd in this article] that there are pins protruding from the unit on the 240v side that are unshielded. So, if a person connects their panel to the inverter and manages to touch the pins they will receive a 240v shock at quite a number of amps. Certainly enough to hurt, possibly enough to kill the frail.

If you take a look at this image [of a PC power supply]: you will see that the output side has a moulded plastic shield preventing you from touching the pins.

Andrew, 6th June 2011
---
Recommended Related Articles
People who read this article also enjoyed the following articles:
Giromill Darrieus Wind Turbines
What is a Giromill wind turbine - Darrieus (VAWT)
Article Last Modified: 16:27, 30th Jan 2007
wind
|
education
Buy a VAWT Vertical Wind Turbine
Understand the advantages and disadvantages of VAWTs
Article Last Modified: 10:37, 26th Oct 2010
wind
Permanent Magnet Generator
Build a wind or water power system with around a PM Generator
Article Last Modified: 16:43, 6th Apr 2010
wind
|
hydro
Calculation of Wind Power
Calculate the power of the wind hitting your wind turbine generator
Article Last Modified: 15:06, 18th Apr 2008
wind
|
education
Calculate kWh Generated by Wind Turbine
Knowing average wind speed and rotor size of a wind turbine estimate kWh of electricity generated per year
Article Last Modified: 15:58, 8th Mar 2007
wind
|
education
Quiet Revolution QR5 VAWT
Find out about the QR5 Vertical Axis Wind Turbine from Quiet Revolution
Article Last Modified: 09:47, 20th Dec 2006
wind
Real Time Wind Speed Map
Check current wind speeds at your UK location and see a forecast for the next 7 days
Article Last Modified: 15:19, 18th Jan 2007
wind
Switch from Inverter to Mains Automatically
Power a circuit directly from a power inverter, but with automatic mains power back up.
Article Last Modified: 11:16, 28th Nov 2012
electric circuit
|
storage
|
general
Windsave 1000
Find out more about the Windsave 1000 system
Article Last Modified: 10:21, 9th Mar 2011
wind
Cheap Pyroelectric Infrared PIR Detector
Details of a very affordable and flexible PIR motion detector
Article Last Modified: 20:33, 16th Jan 2013
electronics
|
education
|
electric circuit